Accurate carbon accounting, coupled with superior decarbonization and energy efficiency expertise.
CLEAResult ATLAS™ Carbon is driven by the largest database of global emissions factors and assumptions available on the market today—capable of calculating scope 1, 2 and all 15 categories of scope 3 emissions across your entire enterprise, worldwide. What's more, our system is regularly updated to comply with current disclosure rules and the accuracy of our base factors is independently verified annually by PricewaterhouseCoopers (PwC).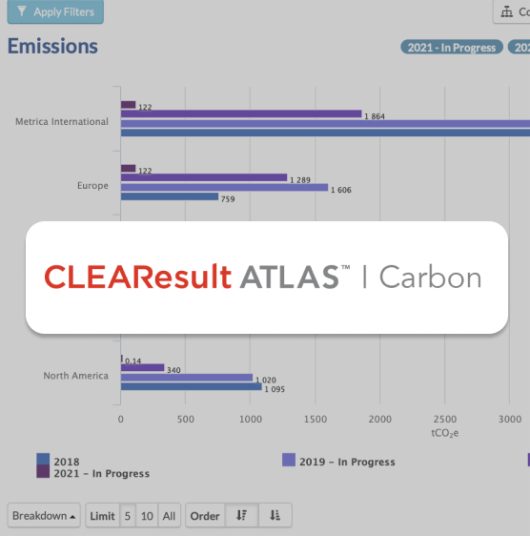 Optimize your carbon accounting and carbon reporting with confidence.
Start generating reports compliant with all major international GHG accounting standards today. Our carbon consultants can help determine which data to use to establish your organization's baseline carbon footprint. Then, we'll sync that data with your current accounting software, thereby automating the carbon emissions data entry process and reducing the chance of human error. Additionally, we also offer modules that can track and report on any data related to your overall ESG strategy, including DEI initiatives. 
 
The CLEAResult ATLAS™ Carbon difference:
Flexible reporting
Fully integrated system enables target setting, along with customizable market-based or location-based carbon monitoring and reporting.
Audit-ready
Data integrity and quality assurance checks are built into the database and the assessment workflow to save time and costs associated with audits.
Automated carbon calculations
Automated emissions calculations provide consistency, transparency, and auditability to your carbon reduction strategy.
Data locking
Quality assured data is locked at key points during audit preparation to ensure it cannot be modified
Transparency
All data comes with a complete audit trail for calculations, including the factors and sources used for assumptions.
Auditor login
Our dedicated, read-only auditor login ensures commissioning and auditing of your sustainability data is fast and cost-effective.
Accredited and trusted
SEC and GHG Protocol compliant, CDP Gold Partner, and verified as audit-ready by PwC.
Request a CLEAResult ATLAS™ Carbon demo
Simplify your decarbonization journey with CLEAResult ATLAS™ Carbon. See the results for yourself by scheduling a demo with one of our carbon consultants. Just fill out the form below to start a conversation.