Go back
CLEAResult ATLAS™ GridSaver gives utilities and their customers an easy tool to reduce peak demand together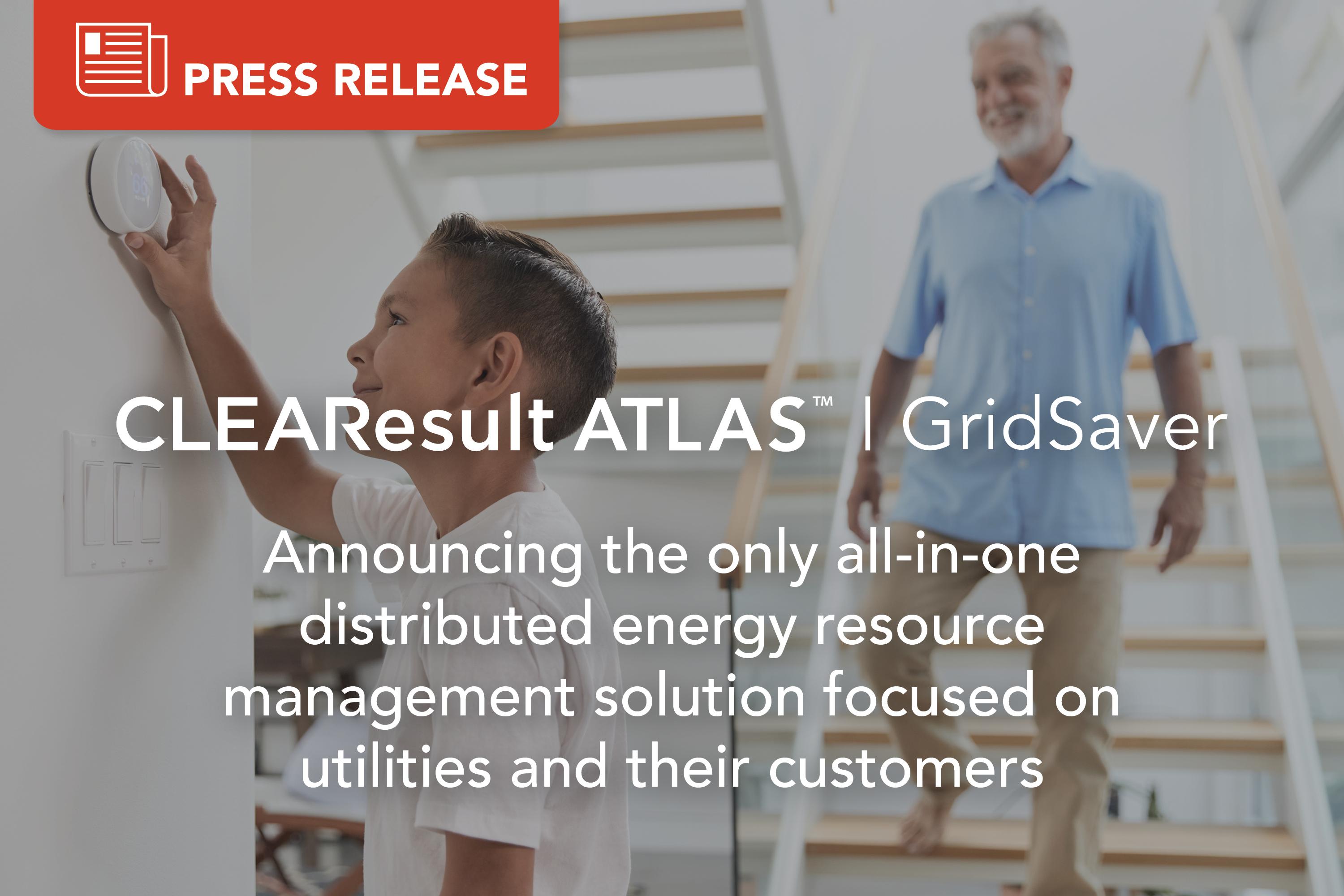 Austin, TX (September 14, 2023)—As energy demand continues to rise, utilities are faced with the complex task of balancing the growing impact of higher load peaks and distributed energy resources (DERs), like battery storage and solar arrays, on the grid while supporting the increasing number of customers who adopt DERs. CLEAResult, North America's largest energy efficiency and energy transition solutions provider, announced today the launch of CLEAResult ATLAS™ GridSaver, a DERs management solution that makes it easier for utilities and their customers to adapt to evolving energy demands and fluctuations. 
CLEAResult ATLAS™ GridSaver is designed to take the pressure off power grids and provide utility administrators peace of mind as they navigate the new era of distributed energy. The solution addresses the two key pillars of integrating DERs effectively—grid management and customer participation. 
"It's always our top priority to help utilities safely and proactively respond to rapid changes in demand," said Divakar Jandhyala, CLEAResult's Chief Product and Technology Officer, "and it's just as important that customers with new smart appliances or EV chargers can easily participate from their phone or other familiar platforms—everyone's experience matters." 
CLEAResult's holistic approach to energy efficiency and DERs management is central to CLEAResult ATLAS™ GridSaver. The scalable and flexible SaaS solution is: 
Utility-focused. Created for utilities, first and foremost, the solution puts everything energy providers need to integrate, monitor and control distributed energy resources in a single platform.
Customer-centric. CLEAResult ATLAS™ GridSaver helps utility customers monitor their DERs and participate in programs with user-friendly portals and mobile apps.  
Predictive. Advanced analytics predict load profiles and grid conditions based on historical data, weather forecasting and real-time analytics.
Responsive. Utilities can implement demand response strategies with ease using advanced forecasting to adjust DERs operations, remotely control EV charging, and intelligently shift load to available grid capacity when needed.
Safe and secure. Utility-level security and compliance features provide safety and resiliency for customers and the electric grid. 
CLEAResult's local program teams, who already deliver energy management programs and DERs solutions to hundreds of thousands of utility customers across the U.S. and Canada, are ready to implement CLEAResult ATLAS™ GridSaver today. This solution is part of the CLEAResult ATLAS™ energy efficiency software suite, enabling energy providers to access all the company's industry-leading utility technology solutions. 
For more details and future updates on CLEAResult ATLAS™, visit the company's website.
###
About CLEAResult
CLEAResult is the largest provider of energy efficiency, energy transition and decarbonization solutions in North America. Since 2003, our mission has been to change the way people use energy. Today, our experts lead the transition to a sustainable, equitable, and carbon-neutral future for our communities and our planet. Our hometown teams collaborate with a diverse network of local partners to deliver world-class technology and personalized services that make it easy for commercial and industrial businesses, governments, utilities and residential customers to reduce their energy use and carbon footprint. CLEAResult is headquartered in Austin, Texas, and has over 2,400 employees in more than 60 cities across the U.S. and Canada. CLEAResult is majority owned by TPG through its middle market and growth equity investment platform TPG Growth and its multi-sector global impact investing strategy The Rise Fund.
Explore all our energy solutions at clearesult.com.
Media contacts
Amber Tester
Director Corporate Communications
Go back