Go back
CLEAResult releases 2022 Sustainability Report, reduces carbon footprint by nearly 70%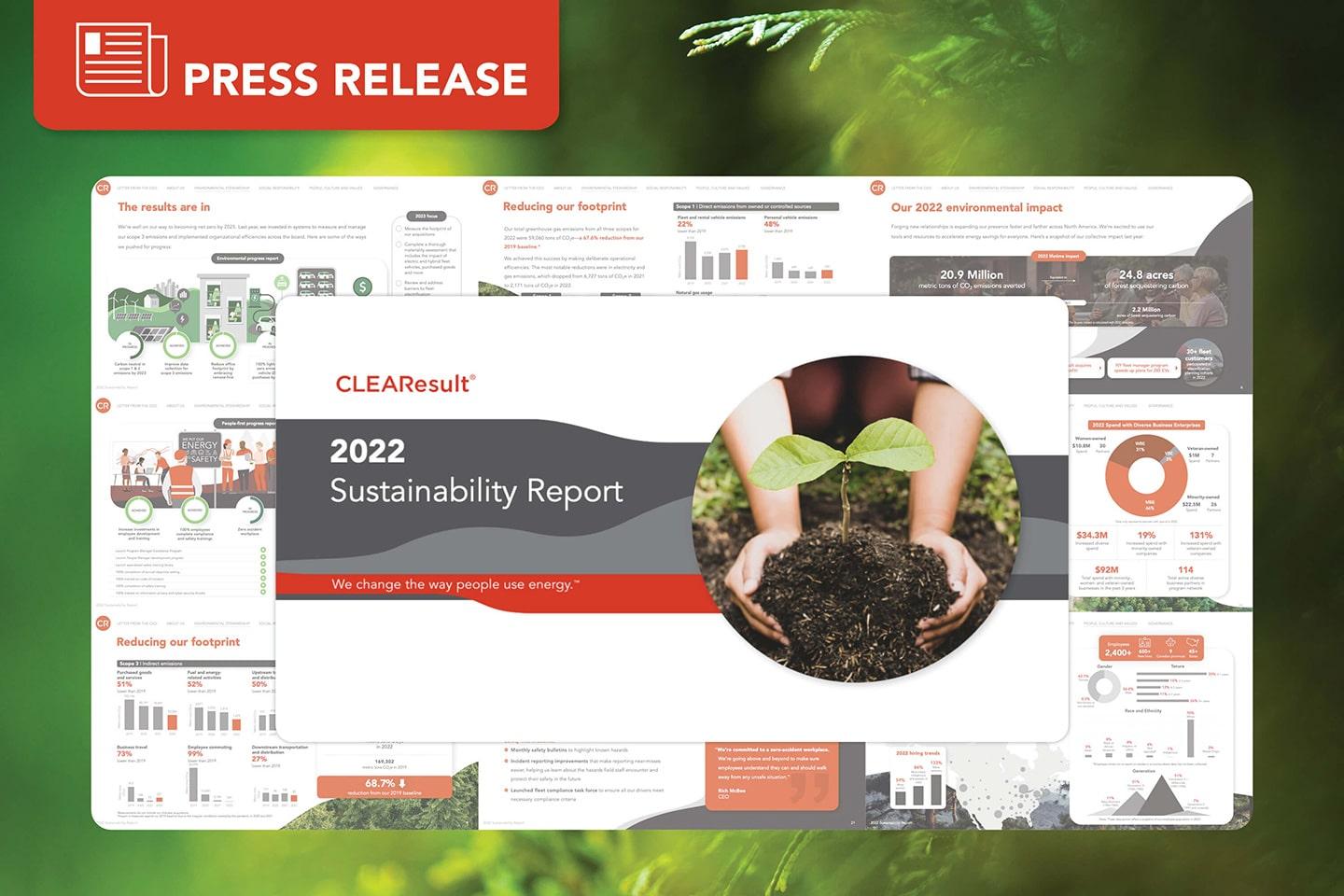 Austin, TX (April 19, 2022)—CLEAResult released its 2022 Sustainability Report today, highlighting the company's commitment and progress toward reaching net zero by 2025. The report shares that the energy efficiency, energy transition and decarbonization solutions provider has reduced its carbon footprint by nearly 70% across all three scopes of the Greenhouse Gas (GHG) Protocol.
CLEAResult made significant progress reducing its scope 3 GHG emissions, the indirect emissions that companies often struggle with most. The reduction came primarily from their commitment to remote-first for their employees, which resulted in a 99% decrease in emissions from employee commuting. Additional scope 1 and 2 savings came from continuing to reduce their office footprint.
"I'm excited to share the progress we were able to achieve in 2022," said CEO Rich McBee. "It's an important demonstration of our accountability to all stakeholders, especially our employees whose efforts continue to be critical to our success."
CLEAResult's sustainability report also includes the social and environmental impact of their work. Since its founding in 2003, the company has averted a total of 127 million metric tons of CO2 emissions through their work in energy efficiency, energy transition and decarbonization. In 2022 alone, the company averted nearly 21 million metric tons of CO2 through the lifetime impact of all energy saving measures installed. Those energy efficiency improvements will have saved people and organizations a total of $9.6 billion on energy bills—over $210 million of which was delivered directly to income-eligible households.
Other highlights from the report include nearly doubling the company's diverse business partner network to 114 active businesses. CLEAResult has now spent $92 million with minority-, women- and veteran-owned businesses over the past 3 years and shows no signs of slowing down. Internally, the company reported significant progress on their goals to grow employee diversity, inclusion and belonging which can be seen in their talent acquisition trends—hiring 59% more women, 84% more Black, Indigenous, and people of color, and 133% more veterans over the previous year.
Everything we do makes energy use better for people and more sustainable for our planet," McBee added. "We're proud to report data that proves we're making progress both internally as a company and externally as a result of our work."
CLEAResult's 2022 Sustainability Report can be found on the company's website for full details.
###
About CLEAResult
CLEAResult is the largest provider of energy efficiency, energy transition and decarbonization solutions in North America. Since 2003, our mission has been to change the way people use energy. Today, our experts lead the transition to a sustainable, equitable, and carbon-neutral future for our communities and our planet. Our hometown teams collaborate with a diverse network of local partners to deliver world-class technology and personalized services that make it easy for commercial and industrial businesses, governments, utilities and residential customers to reduce their energy use and carbon footprint. CLEAResult is headquartered in Austin, Texas, and has over 2,400 employees in more than 60 cities across the U.S. and Canada. CLEAResult is majority owned by TPG through its middle market and growth equity investment platform TPG Growth and its multi-sector global impact investing strategy The Rise Fund.
Explore all our energy solutions at clearesult.com.
Follow us on: Facebook | LinkedIn | Twitter | Instagram
Media contacts
Amber Tester
Director Corporate Communications
Go back