Go back
Starting off summer with electrifying events.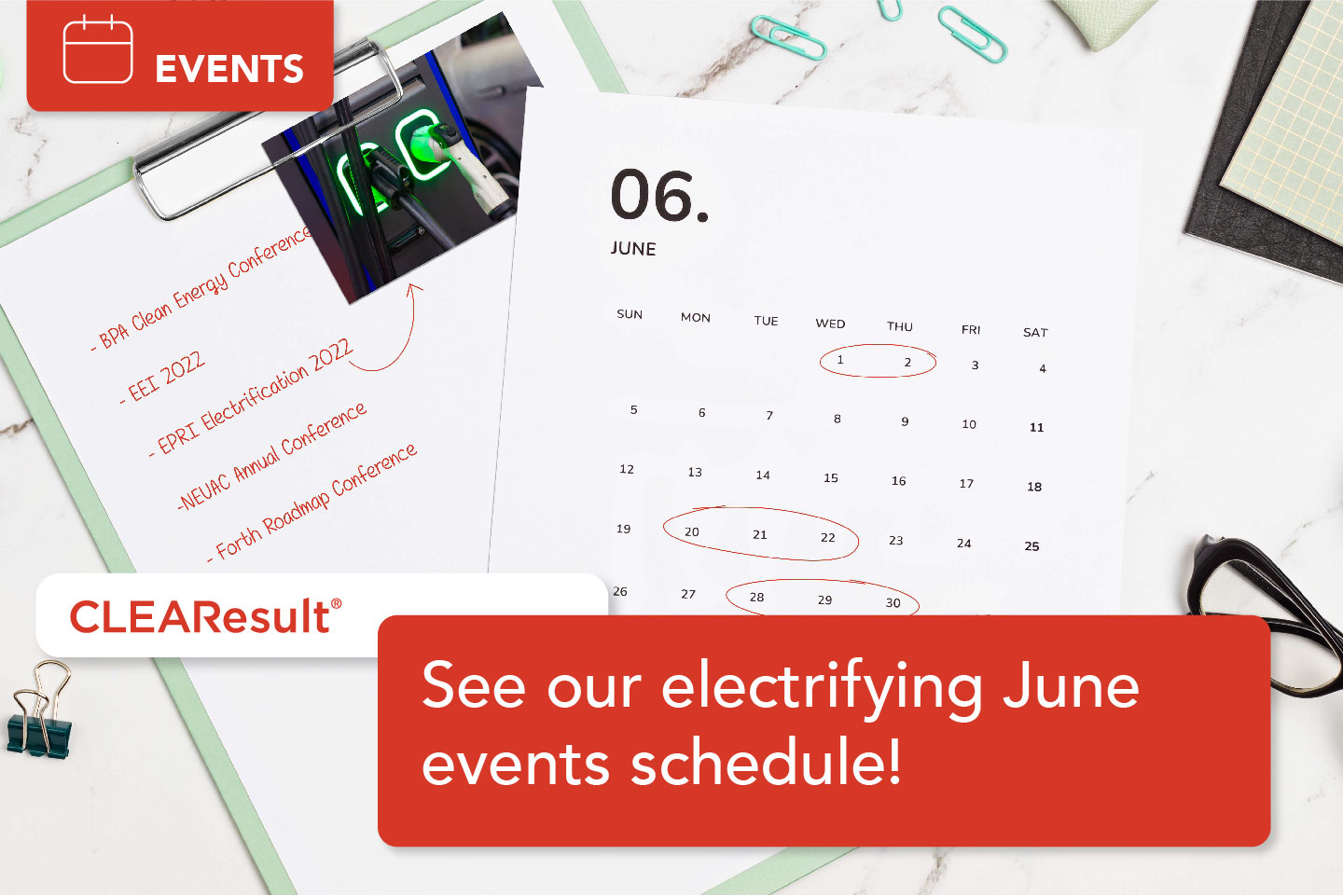 In June, we're featuring fleet! The conversation around fleet electrification has been accelerating quickly in recent months. From our acquisition of ChooseEV to our April electrification webinar, we're thrilled to keep moving full speed ahead.
Here's what's coming up in June:
Building Performance Association (BPA) Clean Energy Conference: June 1–2
Where: Saratoga Springs, NY
How to attend: Register today
Where to find us: On the speakers' agenda and in our interactive exhibit booth.
John Carrigan will present on Thursday, June 2 from 8:30 to 10:30 a.m. during the "Auditing with Heat Pumps in Mind" session.
Adam Hargis will present on Thursday, June 2 from 1:30 to 3:00 p.m. during the "Duct Diagnostics for Ducted Air Source Heat Pumps" session.
Edison Electric Institute (EEI) 2022: June 20—22
Where: Orlando, FL
How to attend: Register today
Where to find us: Networking with other professionals discussing clean energy policies, energy equity and managing the risks of climate change.
Electric Power Research Institute (EPRI) Electrification 2022: June 28–20
Where: Charlotte, NC
How to attend: Register today
Where to find us: Enjoying Charlotte and talking through targeted, equitable electrification solutions to accelerate our transition to a low-carbon power sector and net-zero economy.
National Energy and Utility Affordability Coalition (NEUAC) Annual Conference: June 28–30
Where: New Orleans, LA
How to attend: Register today
Where to find us: Engaging with the nation's leading energy assistance leaders to share the challenges and successes we've seen helping income-eligible folks meet their home energy needs.
Forth Roadmap Conference: June 29–30
Where: Portland, OR
How to attend: Register today
Where to find us: Sponsoring, speaking, and hanging out at our interactive exhibit booth! We have the honor of introducing one of the conference's keynote speakers.
Can't wait? Watch our recent webinars on Energy Forum for a glimpse of what you're in for or read through the highlights from last month below!
May event highlights for those who missed out.
May started off big with the ENERGY STAR® Awards, recognizing exceptional leaders in energy efficiency including 16 of our clients. Congrats to all our ENERGY STAR award winners!
The American Association for Black's in Energy (AABE) 45th National conference brought together over 650 energy professionals in Tampa, FL, to discuss the importance of having continuous conversations around diversity, equity and inclusion in the energy industry.
The CleanMed 2022 Conference in Missouri continued our focus on Healthier Homes with the opportunity to gain health care provider buy-in and feedback. During Todd Miles speaking session healthcare leaders listened and are ready to act on the residential energy efficiency work that creates measurable health benefits and improves air quality, while also being high quality, local carbon offsets.
Our sponsorship of the Keystone Energy Efficiency Alliance (KEEA) Policy Conference gave us valuable visibility with leaders in the federal and state policy space as they discussed the future of energy efficiency. The conversations centered around making sure programs reach income-eligible households, the push to move new construction toward net zero, and the transition away from fossil fuels to all-electric buildings.
The Edison Electric Institute's (EEI) Business Diversity Conference focused on "Building A Resilient Supplier Pipeline to Energize the Energy Industry." Sylvester Johnson, our Partnership Director, attended to strengthen our diverse supplier pipeline by networking with many existing and potential partners.
The Midwest Energy Efficiency Alliance (MEEA) Annual Membership meeting in Milwaukee was a mix of networking fun with decarbonization and energy policy that made us feel right at home. MEEA's vision for the rest of 2022 and beginning of 2023 also includes workforce development and industry diversification.
We hope to meet more people next month as we continue the exciting conversations happening in our industry every day!
Go back