Go back
Xcel Energy and CLEAResult Go Electric: Electric vehicles to be used in Home Energy Squad fleet this month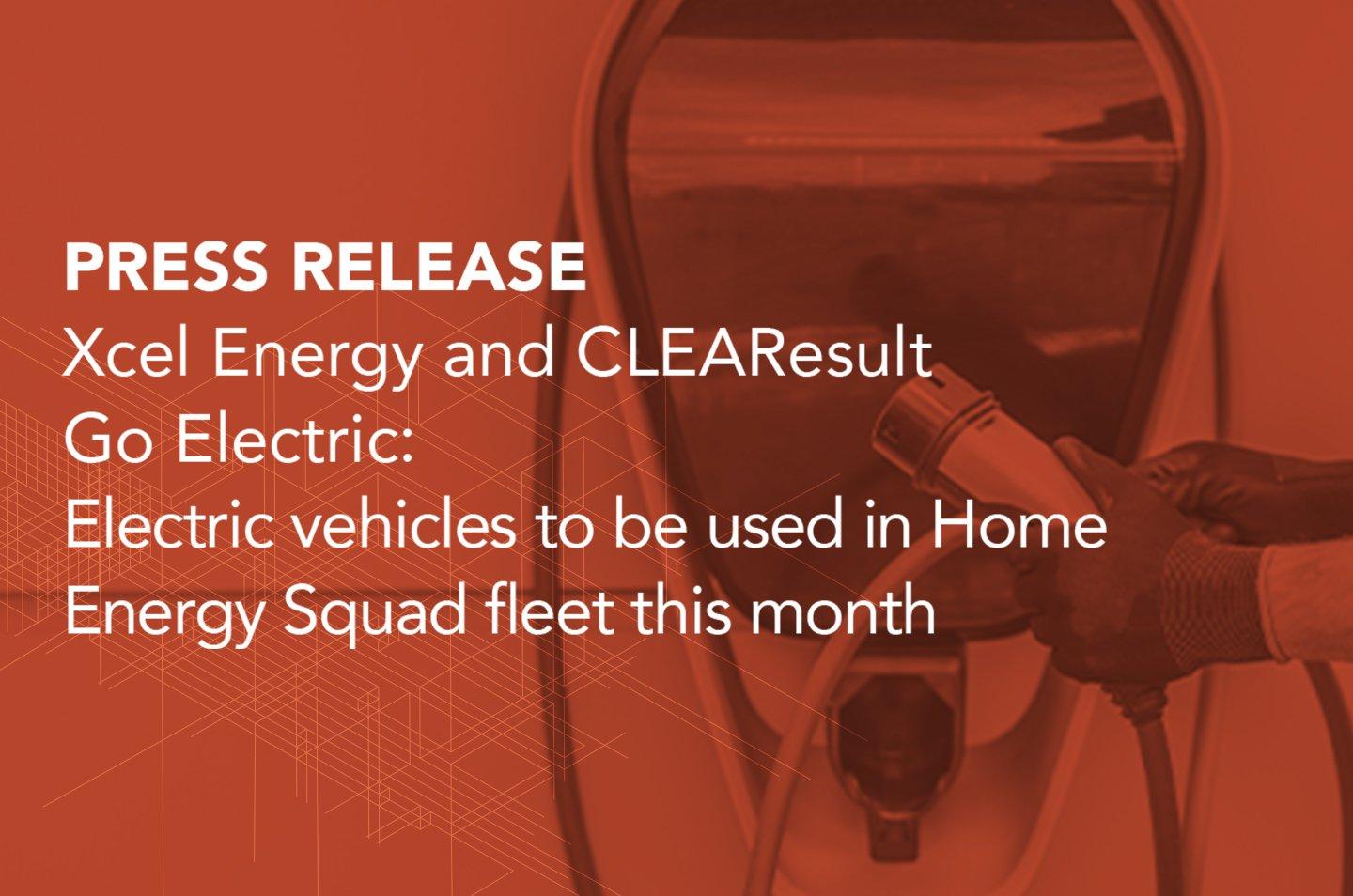 DENVER (October 14, 2021) – Xcel Energy and program provider CLEAResult are going electric. The companies have agreed to transition CLEAResult's local fleet of field services vehicles to a mix of fully electric and plug-in hybrid electric vehicles for Xcel Energy's Home Energy Squad visits. The first fully electric Home Energy Squad electric vehicle (EV) will hit the roads of Xcel Energy territory this month, as CLEAResult continues working towards its goal of transitioning to an electric vehicle fleet.                       
"The combination of the used EV inventory, tax credits, manufacturer rebates, and local dealership incentives have made it easier and more affordable than ever to drive electric," says Rob O'Connell, Xcel Energy program manager. "Our Home Energy Squad is capitalizing on this exciting time and taking real action to demonstrate our commitment to sustainability to our customers and the industry as a whole."
As the customer-facing operator of Xcel Energy's Home Energy Squad program, CLEAResult's transition to fleet electrification provides an important opportunity to demonstrate the benefits of EV ownership to day-to-day consumers.
"We're inspired by the opportunity to demonstrate the advantages of fleet electrification with Xcel Energy, as championing EV adoption is one important way that we are changing the way people use energy. With this initiative we're able to advance CLEAResult's own sustainability efforts while demonstrating the same cutting-edge solutions that we're advising for use with our clients," said James Russell, CLEAResult practice director. "We look forward to sharing our process and tools as a model for other utilities to accelerate EV adoption, and showing how the Home Energy Squad now conveys to Xcel Energy's customers that EV adoption is not only possible, but practical."
Xcel Energy and CLEAResult have worked together for more than five years to provide Colorado communities with energy-saving recommendations and improvements, through Home Energy Audits and installation of LED lighting, smart thermostats, and other energy-efficient technologies that deliver electricity and natural gas savings. The EV fleet is the latest complement to the program's energy benefits, allowing the CLEAResult experts in the field to demonstrate energy-saving practices firsthand through the transition to EV use.
To learn more about the benefits of EVs, charging systems, federal tax credits, toll discounts, and where to buy an EV locally, visit ev.xcelenergy.com/incentives.
About Xcel Energy
Xcel Energy (NASDAQ: XEL) provides the energy that powers millions of homes and businesses across eight Western and Midwestern states. Headquartered in Minneapolis, the company is an industry leader in responsibly reducing carbon emissions, and producing and delivering clean energy solutions from a variety of renewable sources at competitive prices. For more information, visit xcelenergy.com or follow us on Twitter and Facebook.
About CLEAResult
CLEAResult is the largest provider of energy efficiency and demand response solutions in North America. Through proven demand side management strategies tailored to clients' unique needs, CLEAResult combines the strength of our energy experts and innovative technology to help over 250 utilities change the way people use energy. CLEAResult is headquartered in Austin, Texas, and has over 2,500 employees in more than 60 cities across the U.S. and Canada. CLEAResult is a portfolio company of the private equity firm TPG and The Rise Fund, a global impact fund led by TPG. For more information, visit clearesult.com.
Go back