Go back
IRA: It's time to change the world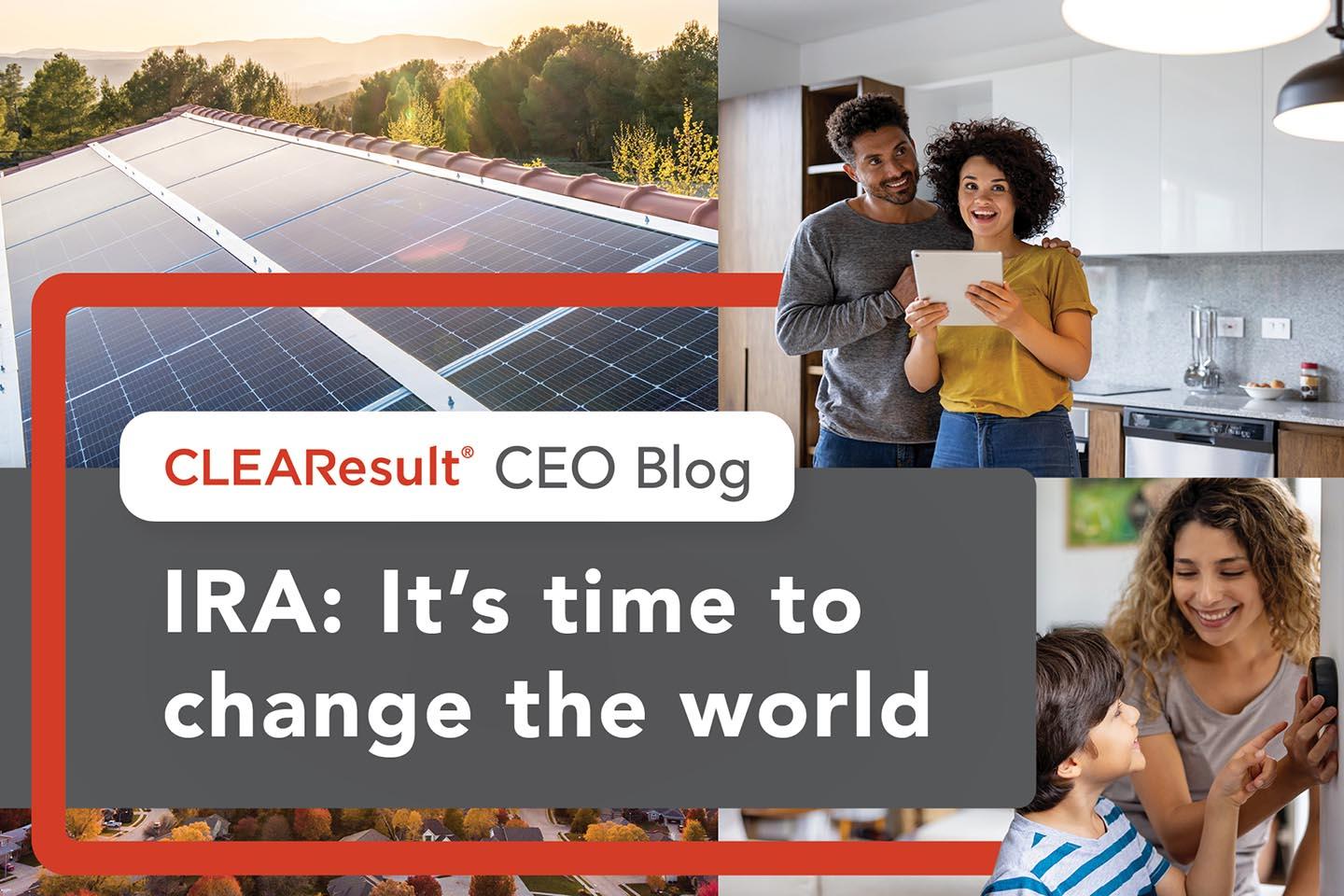 Let me start by wishing you all a fantastic Energy Efficiency Day. What better day for us to reflect on how far we've come in the green transition and to steady our focus on the sustainable path ahead. Backdropped by the landmark Inflation Reduction Act (IRA), set to transform our industry beyond anything we've ever seen before, this Energy Efficiency Day is surely our most promising yet. 
Anticipating the full transformational effects of the Inflation Reduction Act
The journey to that transformation will prove to be more marathon than sprint, and that is no bad thing. As Sage Briscoe, director of federal policy for the electrification nonprofit Rewiring America, said: "It's more important to make sure the programs work well than to do this fast." And I completely agree. With the White House having released its guidelines on how State Energy Offices (SEOs) can apply for funding, we are now poised to meet the accelerated demand for energy efficiency programs. These programs need to be done well, or we risk wasting money and limiting participation with a frustrating experience. There can be no false starts.
The Department of Energy (DOE) intends for states to get this right, and as such the funding application process for SEOs is rigorous. To illustrate my point, as part of its guidelines, the DOE provides a checklist for SEOs to use to support their application. This checklist alone is 23 pages long… Each state is being required to be thoughtful and intentional as they design an effective program, while the DOE is being equally diligent in its allocation and release of funds. 
So, while we celebrate the historic shift in momentum the IRA has brought about, we also appreciate the preparation that states are undertaking. This careful approach will ultimately benefit us all, allowing more opportunities for SEOs, utilities and other stakeholders to collaborate effectively and take advantage of this once-in-a-generation opportunity. 
Opportunities are there for everyone
A lot of coverage has been given to the High-Efficiency Electric Home Rebate (HEEHR) and the HOMES Rebate Programs and the benefits these programs will bring to income eligible customers in disadvantaged communities. And rightly so. This is a huge opportunity to effect change within the most energy-burdened and hard-to-reach households in America; those who could rarely otherwise afford to improve their circumstances or their energy efficiency. And let's not forget, the opportunities extend much further than that, too – billions of dollars in tax incentives are being made available to individuals who are above those income limits. Plus, the IRA has already created more than 170,000 clean energy jobs and could create 1.5 million additional jobs over the next decade. 
On the business and commercial side, there are multiple grants from the DOE and Environmental Protection Agency, including the GHG reduction fund as well as many others. The Department of Urban Housing and Development will also provide benefits to businesses, large and small, private and nonprofit. The IRA's reach is extraordinary, and it is going to transform the way we all, as a nation, use energy.
Changing the world
On this Energy Efficiency Day, I want to remind everyone they have a chance to participate in achieving the ultimate goal of this work and the IRA – comprehensive market transformation. Together, we all have a role to play. Big contributions or small, they all count. The actions we take today will persist far beyond the years of incentives and tax credits to fundamentally change how everyone uses energy. Just imagine what we can celebrate on future Energy Efficiency Days.
Thanks for reading.
Go back