Go back
CLEAResult Awarded $12.5 Million in Residential Efficiency Contracts with Energy Trust of Oregon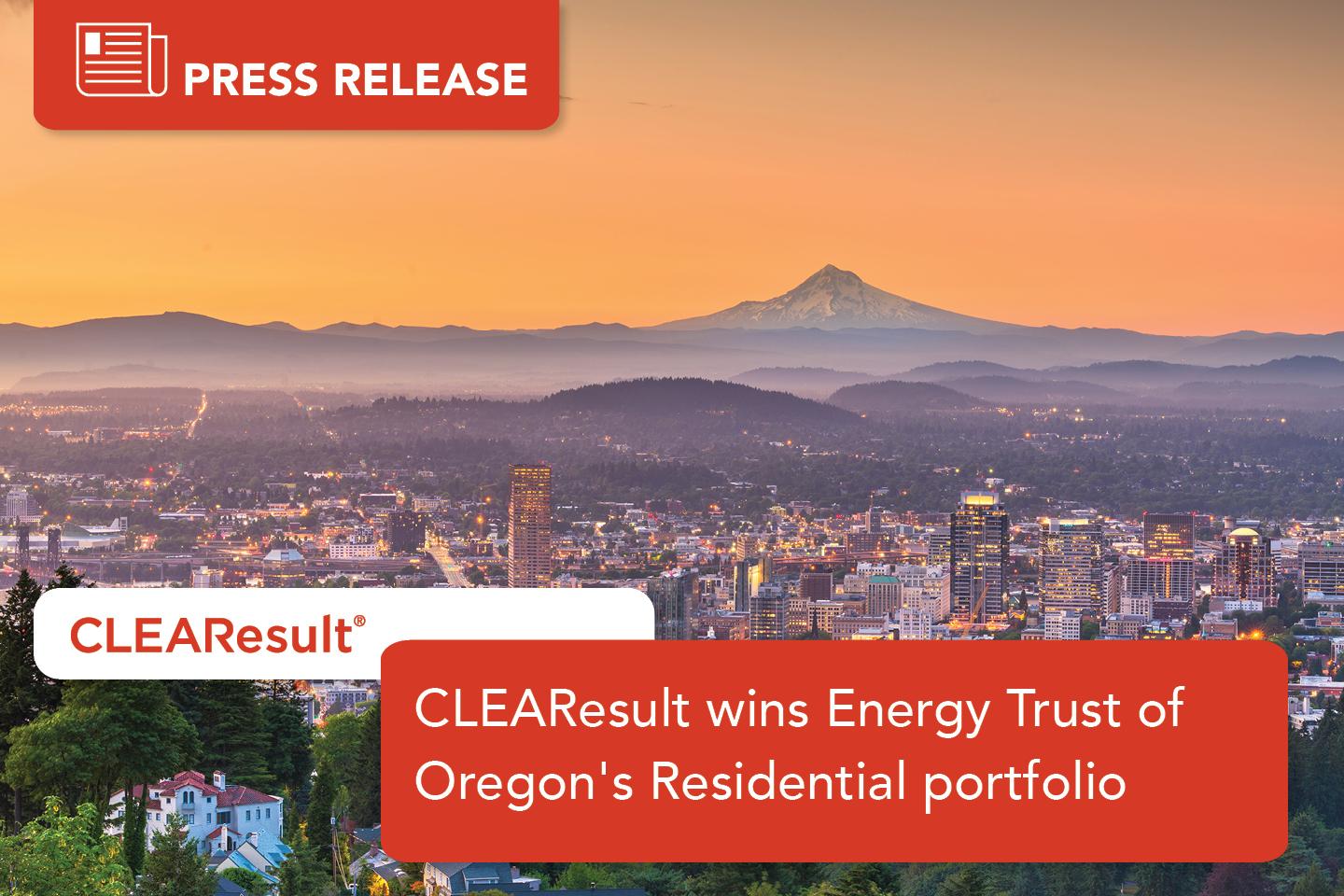 Austin, TX (December 1, 2022)—CLEAResult, the largest energy efficiency solutions provider in the U.S. and Canada, was recently awarded contracts totaling $12.5 million in 2023 to holistically manage and deliver Energy Trust of Oregon's Residential energy efficiency programs. The two organizations have a 15-year history of working together to make energy efficiency more accessible in the state. These new initiatives aim to expand the program's impact even further by building strong diverse supplier partnerships in the state and proactively improving equity at every stage of the customer experience.
"We're really excited to show the impact energy efficiency programs can have when everything is integrated," said CLEAResult CEO Rich McBee. "It's an opportunity to build equity into program design and partnerships early on, creating an ecosystem of mutual success for community members who have been historically underrepresented in our industry."
The awarded contracts continue CLEAResult's management of Energy Trust of Oregon's wide-ranging Residential portfolio and includes a new Midstream and Online program with a combined first-year budget estimated at $12.5 million. CLEAResult proposed ambitious goals for increasing diverse supplier spend well beyond the 20% minimum required by Energy Trust—a goal the company had previously exceeded by reaching over 30% diverse supplier spend in its Business Lighting program. The team's thoughtful integration of partners in all areas of scope, as well as the strength of their existing supplier relationships, set them apart and will be key drivers of success for the new work.  
CLEAResult will bring their full suite of capabilities to the program including marketing, analytics, trade ally management, budget and savings forecasting, measure development, community engagement and more. CLEAResult ATLAS™, the company's technology platform, will be used to help fully integrate the program's design, opening up opportunities to include diverse partners at every level and deliver a better customer experience for everyone.
"To achieve our vision of clean, affordable energy for everyone, we need partners who share our values and are committed to pushing the limits of what we can achieve for the people of Oregon—CLEAResult fits right in," Energy Trust of Oregon's Director of Energy Programs Tracy Scott emphasized. "Only together with many partners can we bring direct benefits to people who have been underserved and overlooked by the energy industry."
CLEAResult views diverse partners as key to long-term strategic growth. The company is actively focused on building relationships with diverse suppliers nationwide to expand access to the growing number of opportunities in the industry. City and state decarbonization goals, plus federal funding from initiatives like the Inflation Reduction Act are also accelerating the need for emission reduction programs that prioritize people in the most need.
"Creating a workforce that reflects the communities we serve will benefit everyone in the long-run," CLEAResult Senior Vice President, West, Kecia Davison, added. "We're proud to play our part in leading that effort."
Visit CLEAResult.com for more details on the company's energy efficiency, energy transition and decarbonization solutions.
About CLEAResult
CLEAResult is the largest provider of energy efficiency, energy transition, and decarbonization solutions in North America. Since 2003, our mission has been to change the way people use energy. Today, our experts lead the transition to a sustainable, equitable, and carbon-neutral future for our communities and our planet. Our hometown teams collaborate with a diverse network of local partners to deliver world-class technology and personalized services that make it easy for commercial and industrial businesses, governments, utilities and residential customers to reduce their energy use and carbon footprint. CLEAResult is headquartered in Austin, Texas, and has over 2,400 employees in more than 60 cities across the U.S. and Canada. CLEAResult is majority owned by TPG through its middle market and growth equity investment platform TPG Growth and its multi-sector global impact investing strategy The Rise Fund.
Explore all our energy solutions at clearesult.com.
Follow us on: Facebook | LinkedIn | Twitter | Instagram
Media contacts 
Amber Tester 
Director Corporate Communications  
Go back