Go back
CLEAResult Names Rich McBee as Chief Executive Officer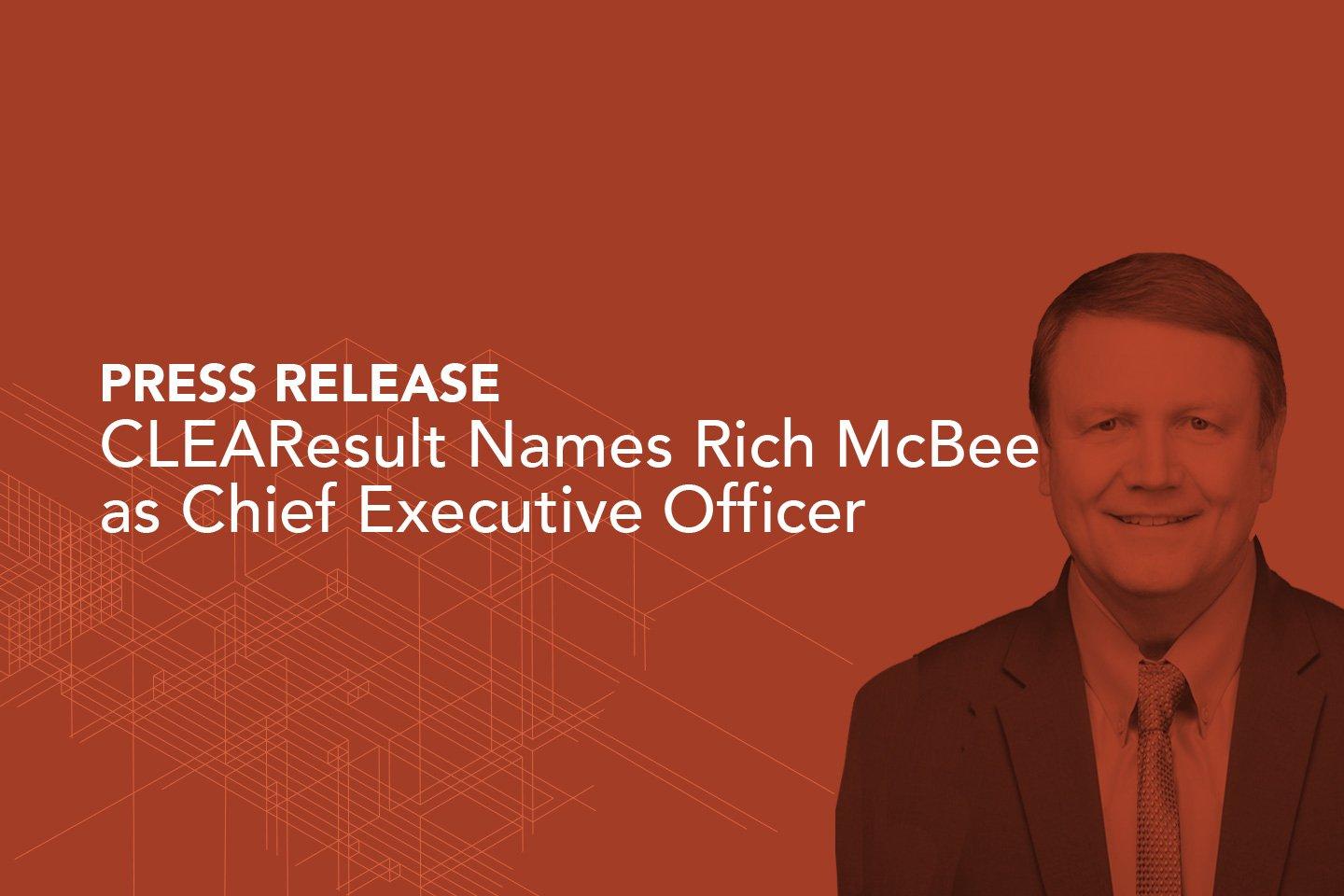 Experienced Executive to Build on CLEAResult's Leading Position in Energy Efficiency
Services and Capitalize on Significant Growth Opportunities
AUSTIN, Texas – June 10, 2021 – CLEAResult, a leading provider of technology-enabled energy efficiency programs for utilities, today announced the appointment of Rich McBee as Chief Executive Officer, effective July 6, 2021. Mr. McBee will also join the company's Board of Directors.
Mr. McBee brings to CLEAResult more than 30 years of experience in top leadership roles driving market expansion, revenue growth, and operational excellence at a range of technology companies. Most recently, Mr. McBee served as President and Chief Executive Officer of Riverbed Technologies, where he was instrumental in implementing growth strategies enabling clients to take advantage of new information technology solutions that fuel transformation. Earlier in his career, Mr. McBee served as President and CEO of Mitel and President of the Communications and Enterprise Group of Danaher Corporation, which acquired Tektronix Communications where he held a variety of leadership positions.
A dynamic leader with a track record of driving growth through innovation while enhancing the customer experience, Mr. McBee joins CLEAResult at an opportune time in the company's growth trajectory. In May 2021, CLEAResult launched CLEAResult ATLAS™ Marketplace to provide a seamlessly connected shopping experience for utility customers as part of the company's vision for a connected energy future and a new era of innovative technology-based energy solutions.
"I am delighted to be joining CLEAResult, the market leader in energy efficiency services," said Mr. McBee. "The increasing complexity of the country's electrical grid as it transitions to clean energy, coupled with the critical role of energy efficiency and strategic energy management in reducing carbon emissions, presents significant growth opportunities for CLEAResult in the coming years. I look forward to working with the impressive team to continue to drive innovation in the next generation of energy efficiency and demand response solutions."
"Rich has the right mix of experience and expertise to lead CLEAResult in its next phase of growth," said Mark Fields, Chairman of the Board at CLEAResult. "Our recently launched CLEAResult ATLAS™ has set a new standard for what utilities and customers should expect from a 'best-in-class' solution, and we are excited to partner closely with Rich and his team to execute on our shared vision for the company and capitalize on the tremendous growth opportunities ahead."
Mr. McBee succeeds Scott Boose, who stepped down as CEO of CLEAResult in April.
About CLEAResult
CLEAResult is the largest provider of energy efficiency and demand response solutions in North America. Through proven demand side management strategies tailored to clients' unique needs, CLEAResult combines the strength of our energy experts and innovative technology to help over 250 utilities change the way people use energy. CLEAResult is headquartered in Austin, Texas, and has over 2500 employees in more than 60 cities across the U.S. and Canada. CLEAResult is a portfolio company of the private equity firm TPG and The Rise Fund, a global impact fund led by TPG. For more information, visit clearesult.com.
Go back