Go back
Colorado's Energy Office Selects CLEAResult to Assess Emissions of CAP Grant Applicants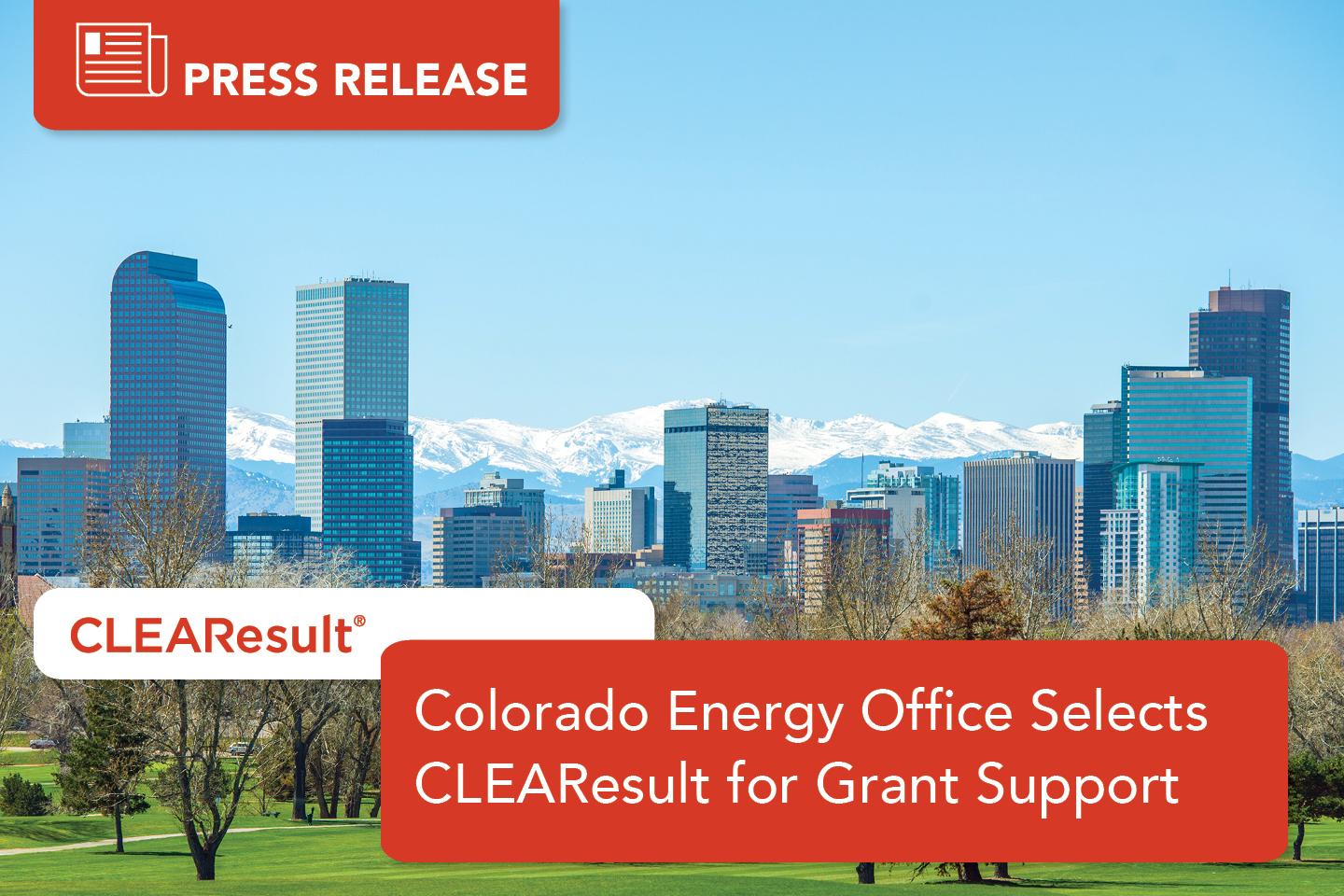 Austin, TX (February 28, 2023)—State energy offices across the U.S. are facing the same challenge—how to make sure new climate investments have the largest impact possible. The Colorado Energy Office (CEO) recently selected CLEAResult, an experienced energy efficiency and decarbonization solutions provider, as the trusted implementing partner to help prioritize the office's $25 million Clean Air Program (CAP) Grants.
CAP Grant projects will be focused on reducing air pollutant emissions from industrial and manufacturing sites throughout Colorado, and applications are expected to open in Spring 2023. CLEAResult's decarbonization team is coming on board to perform on-site Scope 1 Emissions Assessments and evaluate the technical validity and potential reduction impact of an applicant's proposed project. The team will then share the data and insights collected at each site to help inform the Colorado Energy Office's award decisions.
"The industrial sector is a major source of greenhouse gas emissions in Colorado," said CEO Strategic Initiatives & Financing Program Manager Wil Mannes. "We are looking forward to working with CLEAResult to ensure that technical assessments and Clean Air Program grant funding maximize emissions reductions from this sector and move us closer to the clean energy future we envision for the state." 
"Reducing direct, or scope 1, emissions at the source is the end goal we're all working toward," said Keri Macklin, CLEAResult's Vice President of Decarbonization. "We want people to see that progress is taking place and trust that the grant money is being well spent." 
The climate industry often breaks GHG emissions into 3 different scopes. Scope 1 refers to direct emissions that are generated on-site at a company's facility, including company vehicles. Scope 2 and 3 refer to indirect emissions such as purchased electricity or distribution supply chains. CLEAResult has 20 years of experience reducing carbon emissions through its energy efficiency work with utilities, businesses and communities across the U.S. and Canada. The company also measures and reports on its own carbon footprint in an effort to reach their goal of becoming Net Zero by 2025.
"Projects like this will be great models for our industry to learn from as states get more and more funding for climate initiatives," said CLEAResult's CEO Rich McBee. "It's so important that we get this right to show Colorado, and the country, that we can make a meaningful impact for our planet." 
As states prepare for money to begin to flow from the Inflation Reduction Act, all eyes are on climate leaders like the state of Colorado and early implementers like CLEAResult to find successful strategies the industry can rely on.
For updates on CAP Grant applications, visit the Colorado Energy Office's website. More information on CLEAResult can be found at www.clearesult.com.
###
About CLEAResult
CLEAResult is the largest provider of energy efficiency, energy transition, and decarbonization solutions in North America. Since 2003, our mission has been to change the way people use energy. Today, our experts lead the transition to a sustainable, equitable, and carbon-neutral future for our communities and our planet. Our hometown teams collaborate with a diverse network of local partners to deliver world-class technology and personalized services that make it easy for commercial and industrial businesses, governments, utilities and residential customers to reduce their energy use and carbon footprint. CLEAResult is headquartered in Austin, Texas, and has over 2,400 employees in more than 60 cities across the U.S. and Canada. CLEAResult is majority owned by TPG through its middle market and growth equity investment platform TPG Growth and its multi-sector global impact investing strategy The Rise Fund.
Explore all our energy solutions at clearesult.com.
Media contacts 
Amber Tester 
Director Corporate Communications  
Go back