Go back
Five ways CLEAResult ATLAS™ Insights makes energy efficiency campaigns more effective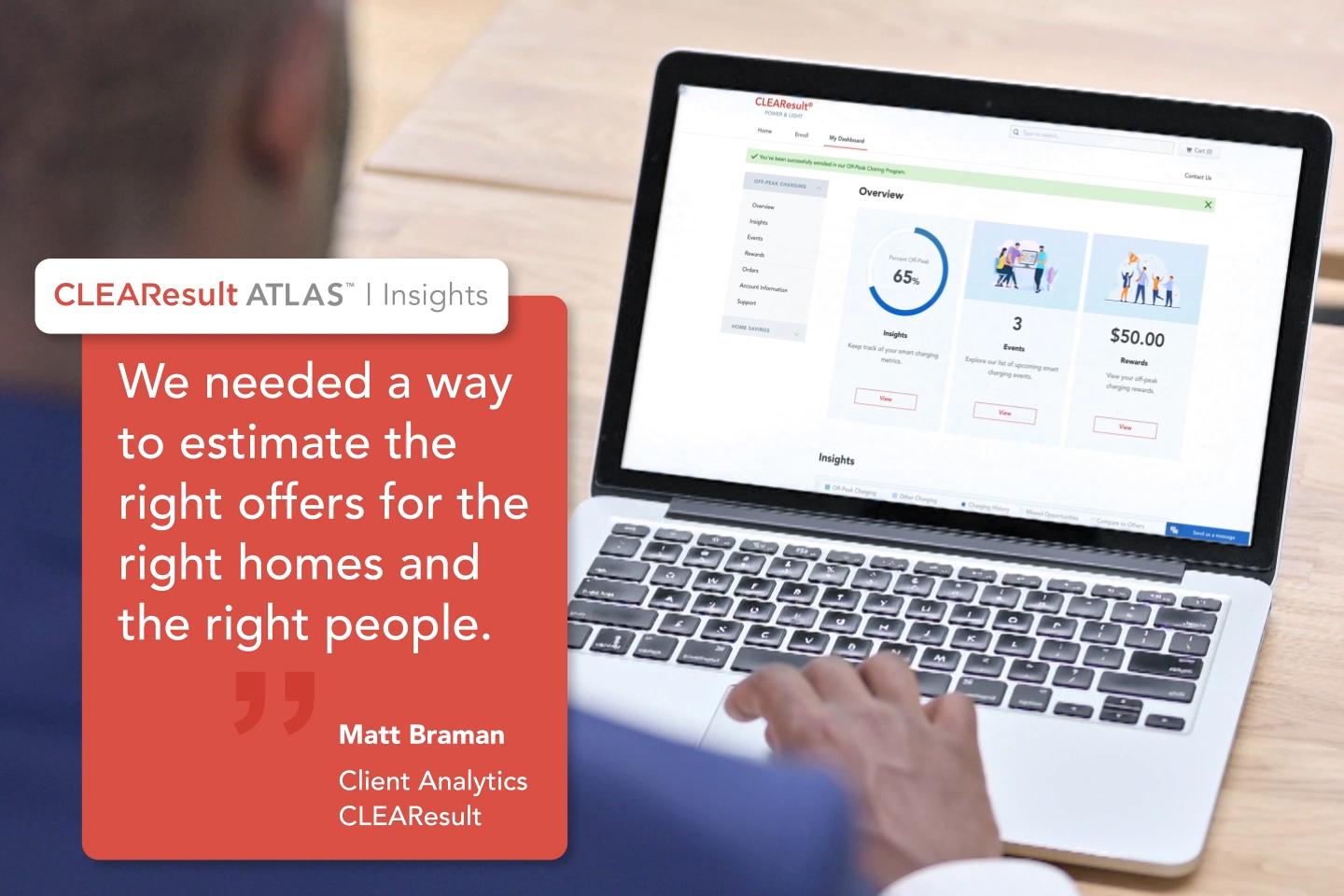 Whether it's your marketers feeling it or your customer, promotion fatigue is real and can unknowingly hinder your campaign's effectiveness. That's where we come in.
By combining cutting-edge predictive analytics with our teams' localized energy expertise, CLEAResult ATLAS™ Insights brings all your data together in a simple, visual dashboard so you can consistently find new ways to keep your campaigns feeling fresh.
Here are the top five ways our tech makes energy efficiency campaigns more effective:
Find the right audience.
People are central to everything we do and connecting your offers to the right customers is no exception. CLEAResult ATLAS™ Insights lets you integrate internal and third-party market segmentation data, including demographics, past participation, building information, communication preferences and more to give you a full picture of your customers' most likely path to taking action.  
Spend less on quality leads.   
By combining our audience profiles with easily accessible monthly data, there's no need to waste your budget on real-time meter data or AMI integration to determine a customer's energy burden and usage habits, especially when income estimates are included. This approach allows us to broaden our scope, lower costs and identify the best energy efficiency offers for your target customers.
Personalize customer engagement with predictive messaging.
Choosing the right channel, message and media to reach your customers is easy with the power of CLEAResult ATLAS™ Insights. We'll show you the best way to map out your messaging by product and customer profile so you can make sure everyone in your community is seeing the energy efficiency upgrades that suit their needs, giving you a higher chance of success.
To give you an idea of what this looks like in action, take a look at this segmentation flow chart example from our Energy Forum 2021 Lighting Talk with Rocky Mountain Power (RMP). In an effort to improve air quality and program participation in energy-efficient home cooling upgrades like evaporative coolers, ductless heat pumps and dual fuel heat pumps, our teams used analysis from CLEAResult ATLAS™ Insights to map out the right offers for the right homes and the right people.
"We needed a way to estimate the right offers for the right homes and the right people." – Matt Braman, Client Analytics, CLEAResult
Visualize and analyze campaign performance.
With CLEAResult ATLAS™ Insights keeping an eye on your campaign and aggregated data in a customized dashboard, you can easily view, track and report on the key performance indicators (KPIs) of your choosing. Each dashboard or report can also be shared centrally between your team or third-party vendors and clients so that everyone has access to the same data to review.
For example, in our RMP cooling campaign above, the teams decided to move forward with testing a weather-triggered email strategy that aligned with our data-backed predictive customer pathways. We tracked open rates, click throughs, web traffic, rebate fulfillment and more to get a clear picture of success and found that the weather-triggered emails exceeded our average open and click-through rate by 50% within the first two months of the campaign. Web traffic also increased around the time of each send, and most importantly, the results showed that rebate redemptions on evaporative coolers doubled compared to the same months in the previous year, making the campaign a huge success for our marketers, residential customers and our environment.
Thanks to our collaborative effort and easy alignment through the CLEAResult ATLAS™ Insights' dashboard, we were all inspired to continuously refine and improve this strategy and repeat our success.
Turn insights into action.
Bringing analytics into campaigns early on allows us to better understand who our clients' Energy Efficiency programs are serving best, as well as who we may be missing in our target audiences. As we build out dashboards and review learnings from campaigns across the country, our data and decisions only become richer and more impactful. Every new insight discovery is an opportunity for improvement, increased engagement and higher customer satisfaction. Watch the full 9-minute Energy Forum Lightning Talk Turning Data into Insights and Insights into Action below!
Go back