Go back
Lessons Learned from the 2023 CLEAResult Energy Forum diverse partnerships panel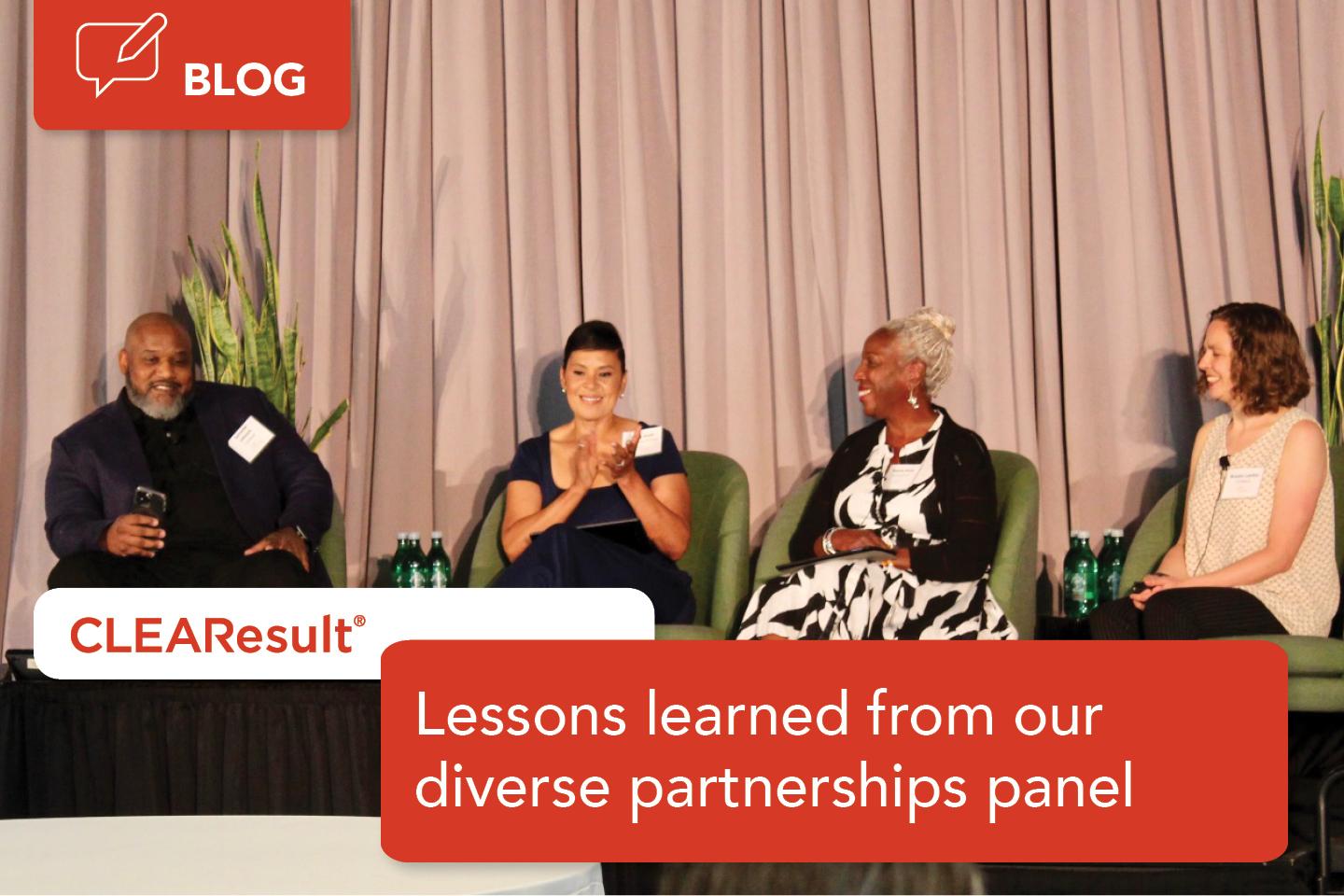 This summer, we hosted some of the energy efficiency industry's brightest thought leaders in Austin, Texas for the 2023 CLEAResult Energy Forum. One of the highlights was the session on Sustainable Diverse Partnerships, where we explored how utilities and implementers can work with their diverse partners and subcontractors to overcome barriers and open doors to new audiences and program opportunities. Joining our Director of Supplier Diversity, Sylvester Johnson and Program Director Brooke Landon were Tracy Scott from Energy Trust of Oregon and Patricia Watts from FCI Management who shared their unique perspectives and experience. 

Here are our top takeaways from this session:
There is a growing need for diverse partners to help utility programs reach under-resourced communities.
For years, utilities have relied on their market-rate programs to bring in significant energy savings. With shifting baselines and greater equity awareness, many portfolios are expanding their program outreach to include more low-and-moderate income (LMI) households and hard-to-reach markets. To be successful, utilities need implementers, subcontractors, and partners who know these communities to establish trust and deliver effectively.
During the session, Tracy Scott discussed Energy Trust's requirement that diverse businesses make up a portion of their subcontractor portfolio. This requirement helps ensure that communities are served by partners and subcontractors who are familiar with their specific needs and challenges and brings new ideas and perspectives to the program. While this requirement is only a few years old, they already have seen doors open to under-resourced communities because of their diverse partnerships. For example, a small community in rural Oregon had only 10 participants in their business lighting program. With the help of some local expertise and partners, ETO rolled out a lighting blitz in that community resulting in 42 projects in one campaign. The power of local, diverse expertise can pay huge dividends in communities where programs have historically struggled.
Some partners face barriers that can limit growth and partnership opportunities.
Many minority-owned or women-owned businesses that partner with utility programs face the typical challenges of being a small business, including access to capital and competing for talent. Oftentimes, these businesses may only have a small staff and a regional or local focus which makes scaling up or supporting programs in another part of the country seem daunting. Additionally, some programs have insurance requirements that may be completely out of reach for these businesses making it difficult for them to partner with large utility programs. Utilities and energy efficiency implementers need to be willing to not just understand these barriers, but actively remove them and work closely with these partners to understand where they can succeed and how to help their business grow.

Helping partners overcome barriers starts with program design.
Many utilities' energy efficiency programs have grown in popularity and reach over the last decade, and with that growth comes complexity that can make it difficult for small businesses to navigate. Understanding where your program design can be simplified or where your delivery plan has gaps helps a wider range of partners to participate.
This simplification can start even at the proposal level. Streamlining proposal requirements so partners don't spend valuable time duplicating efforts from previously submitted RFPs allows them to focus on their core work and driving results. Bringing these diverse partners and their unique insights early into the proposal process can help shape your delivery strategy to new or hard-to-reach markets instead of having to experiment or pivot after the program has launched.
The key to maximizing partner impact, and eventually program success, is understanding what gaps your programs may have, where your potential partners excel, and matching those together early in the process.
Growing the next generation of diverse partners takes an intentional effort.
Outside of program design, there are many ways utilities and other industry stakeholders can help diversify our industry and help small companies grow. While there is no silver bullet to remove every obstacle, reducing financial barriers, like simplifying insurance requirements, and giving suppliers favorable payment terms to empower diverse partners.
Mentorship and workforce development are also key. Many businesses may have the technical know-how and motivation to become major players but lack the experience and opportunity. Providing program opportunities that allow partners to thoughtfully scale their business and gain valuable expertise can deepen relationships and help set them up for future success. Lastly, working with advocacy organizations like the National Minority Supplier Development Council (NMSDC) and the Women's Business Enterprise Council (WBENC) can help identify opportunities, new partners and give insight into what the industry needs.  
Watch the full session, Sustainable Diverse Partnerships, on YouTube and stay tuned for more content from the 2023 CLEAResult Energy Forum.
Go back