Go back
New CLEAResult ATLAS™ Carbon Helps Businesses Measure and Report Their Greenhouse Gas Emissions.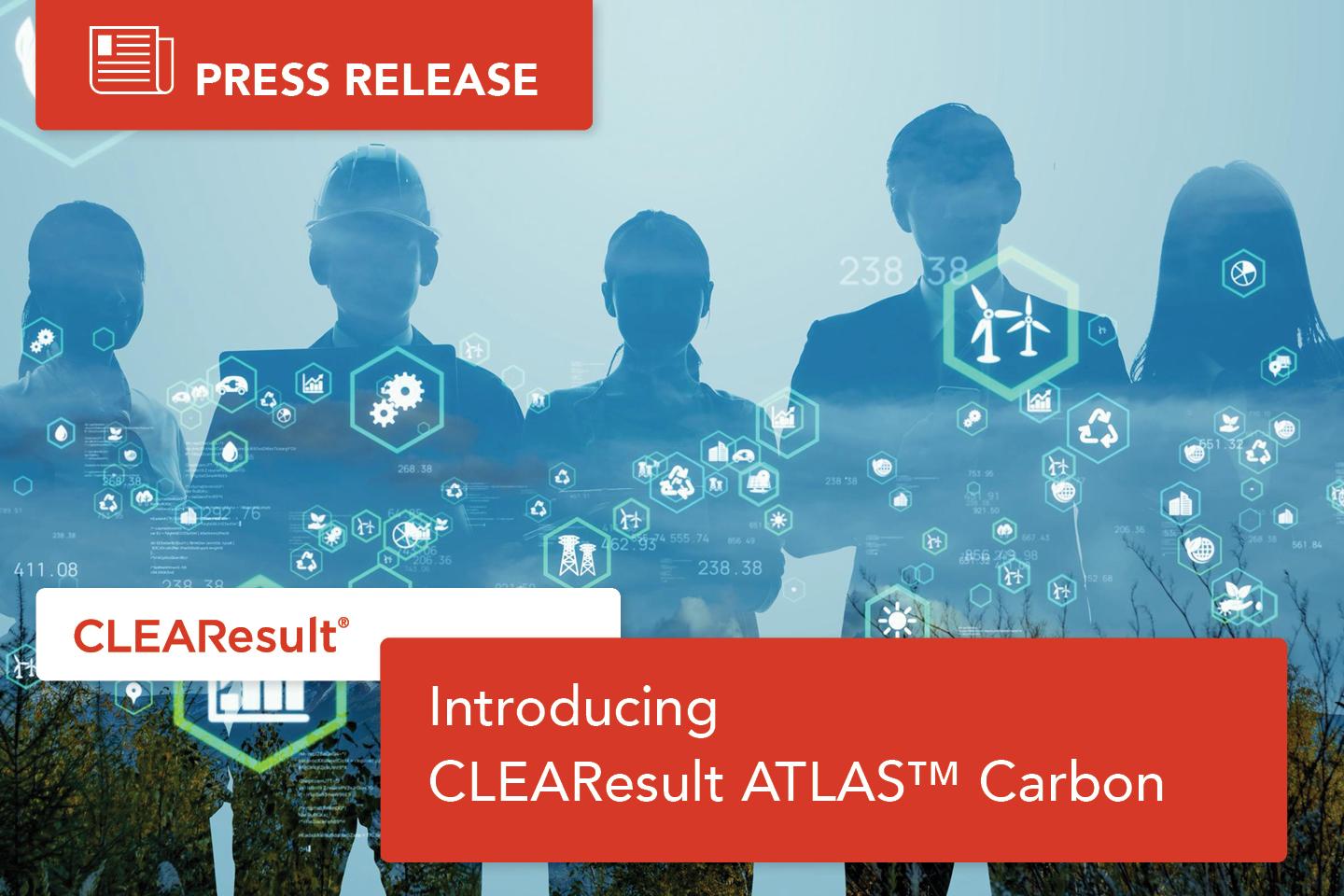 Austin, TX (July 12, 2022)–Forward-thinking companies are quickly making plans to comply with disclosure requirements outlined in the Securities and Exchange Commission's (SEC) climate proposal. To simplify the challenge, CLEAResult—the leading energy efficiency, energy transition and decarbonization solutions provider in North America—is introducing a new product to manage the process. CLEAResult ATLASTM Carbon helps companies measure, track and report their greenhouse gas emissions (GHGs).
"The fun part is the visualization of the data. You can filter and analyze data based on the needs of your team and stakeholders to tell a compelling, accurate and measurable carbon reduction story." said Divakar Jandhyala, CLEAResult's Chief Product and Technology Officer.
This innovative software expedites carbon tracking and provides custom reports that are fully compliant with industry standards. Businesses can view their GHG measurements and trends on a personalized dashboard using specific criteria like location, department, facility and source of emissions. Reports can be customized for a variety of purposes, including external documents compliant with the proposed SEC requirements and GHG Protocol.
"This system was created in response to the expressed needs of our clients," noted Rob Beckwith, VP of Carbon Consulting Business Development. "Accurately measuring their carbon footprint gives them a reliable and reportable baseline that's essential to any type of carbon reduction plan."
CLEAResult ATLASTM Carbon syncs with other accounting software so that data is updated automatically, saving time and reducing the likelihood of human error. The product tracks an organization's carbon reduction and displays their information in a personalized dashboard.
"Our new product provides accurate, up-to-date and easily accessible information about an organization's greenhouse gas emissions. This data is increasingly valuable for businesses looking to make sustainable decisions, regardless of future changes to reporting requirements," added Jandhyala.
More information about CLEAResult ATLASTM Carbon is available on the company's technology page. Their carbon consulting team is also offering no-cost consultations and product demonstrations for organizations of all sizes. To schedule, email Rob Beck with at [email protected].
About CLEAResult 
CLEAResult is the largest provider of energy efficiency, energy transition and decarbonization solutions in North America. Since 2003, our mission has been to change the way people use energy. Today, our experts lead the transition to a sustainable, equitable, and carbon-neutral future for our communities and our planet. Our hometown teams collaborate with a diverse network of local partners to deliver world-class technology and personalized services that make it easy for commercial and industrial businesses, governments, utilities and residential customers to reduce their energy use and carbon footprint. CLEAResult is headquartered in Austin, Texas, and has over 2,400 employees in more than 60 cities across the U.S. and Canada. CLEAResult is majority owned by TPG through its middle market and growth equity investment platform TPG Growth and its multi-sector global impact investing strategy The Rise Fund. 
Explore all our energy solutions at clearesult.com. 
Follow us on: Facebook | LinkedIn | Twitter | Instagram 
Media contacts 
Amber Tester 
Director Corporate Communications  
Go back