Go back
40 Electric Providers Adopt CLEAResult's Online Rooftop Solar Assessment Tool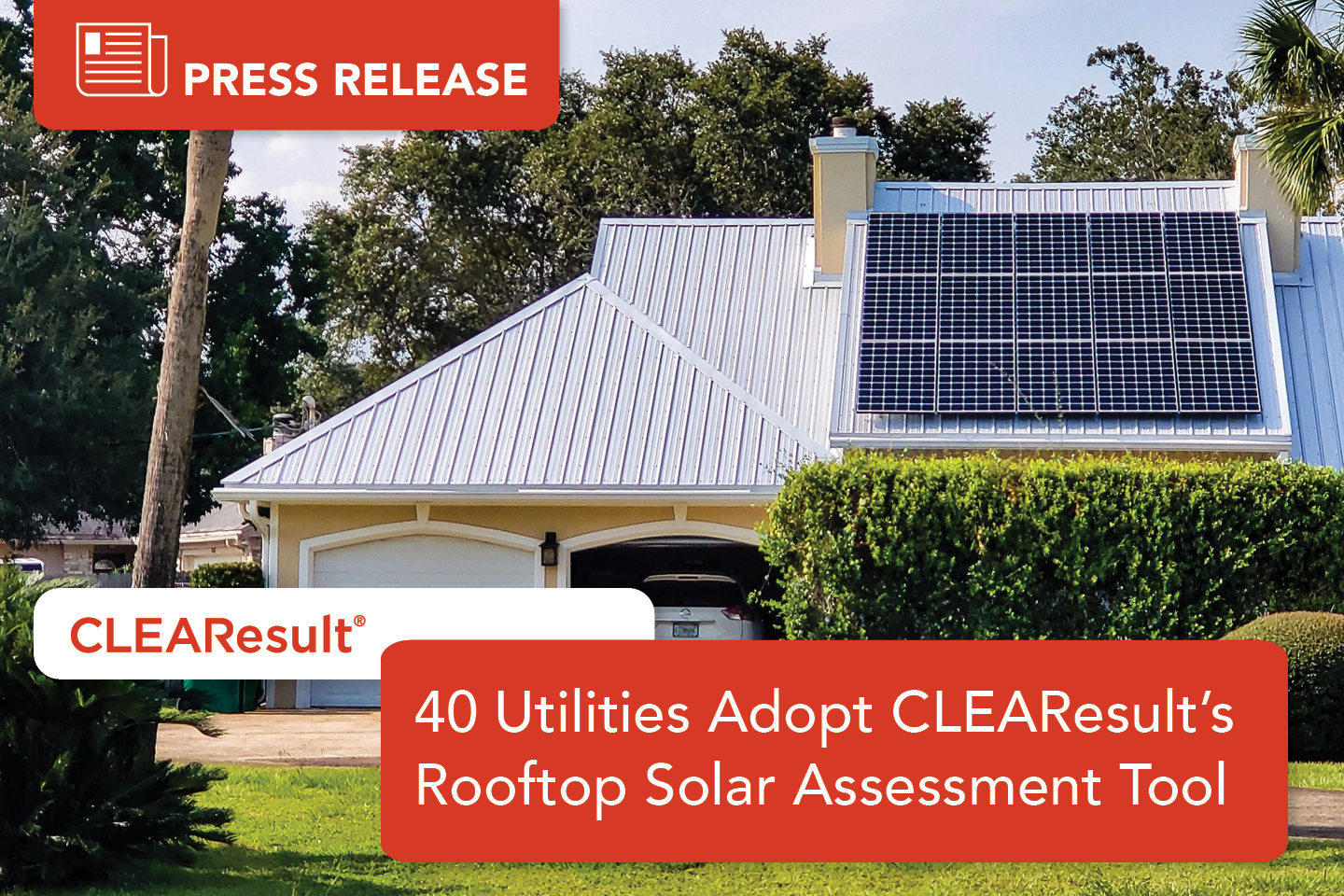 Austin, TX (December 8, 2022)— 40 electric providers, including many cooperatives, are implementing CLEAResult's Rooftop Solar Assessment tool to make the decision-making process of purchasing home solar easier and more customized for their customers. The online assessment is the latest energy education innovation from electric vehicle resource leader ChooseEV, which CLEAResult acquired in May to expand the company's growing energy transition practice within the CLEAResult ATLAS™ platform.
Utilities can customize the Rooftop Solar Assessment with local rates, specific metering models and more to fit the real-world decisions people in their communities are facing. Energy providers can also deliver alternative options for customers to reduce carbon emissions when solar is not a viable option, such as community solar or other green power programs.
"Electric providers want their communities to be properly informed about their energy decisions, especially solar," said CLEAResult's ChooseEV Director, Ben Yenter. "Our online assessment simplifies the conversation. People answer a few quick questions, get personalized savings and payback estimates, and can then have informed discussions to decide what's best for them."
Purchasing residential solar can be a tricky process to navigate. The tool is designed to empower electric providers to offer customers custom-tailored information on how rooftop solar will impact their future bills—an important detail that solar installers often overlook or misrepresent.
CLEAResult is finding interest across the country from utilities of all sizes and fully expects to onboard over 100 providers by early 2023. Co-ops and other utilities with close relationships to their communities have been the fastest first adopters.
"Providing utilities with technology and data that helps them build stronger relationships with the communities they serve is what it's all about," Divakar Jandhyala, CLEAResult's Chief Product and Technology Officer emphasized. "People can finally make decisions based on real data, and our clients can guide them better because of it."
ChooseEV continues to integrate and grow its offering as part of CLEAResult ATLAS™, the company's comprehensive platform for Energy Efficiency, Energy Transition and Decarbonization solutions. The Rooftop Solar Assessment was designed with the same philosophy as the popular EV education tool currently being used by over 400 energy providers—it translates complex technical concepts into easy-to-follow examples that everyone can understand.
CLEAResult's Rooftop Solar Assessment is available for customers of participating utilities in Washington, Arizona, Minnesota, South Carolina and Indiana. "People in Florida, Virginia, Alabama and elsewhere can look forward to seeing the tool available in their states soon," says Yenter.
Visit www.clearesult.com/products to request a fully configurable demo of the Rooftop Solar Assessment.
About CLEAResult
CLEAResult is the largest provider of energy efficiency, energy transition, and decarbonization solutions in North America. Since 2003, our mission has been to change the way people use energy. Today, our experts lead the transition to a sustainable, equitable, and carbon-neutral future for our communities and our planet. Our hometown teams collaborate with a diverse network of local partners to deliver world-class technology and personalized services that make it easy for commercial and industrial businesses, governments, utilities and residential customers to reduce their energy use and carbon footprint. CLEAResult is headquartered in Austin, Texas, and has over 2,400 employees in more than 60 cities across the U.S. and Canada. CLEAResult is majority owned by TPG through its middle market and growth equity investment platform TPG Growth and its multi-sector global impact investing strategy The Rise Fund.
Explore all our energy solutions at clearesult.com.
Follow us on: Facebook | LinkedIn | Twitter | Instagram
Media contacts 
Amber Tester 
Director Corporate Communications  
Go back