Go back
Top five takeaways from our Emphasizing DEI in Energy webinar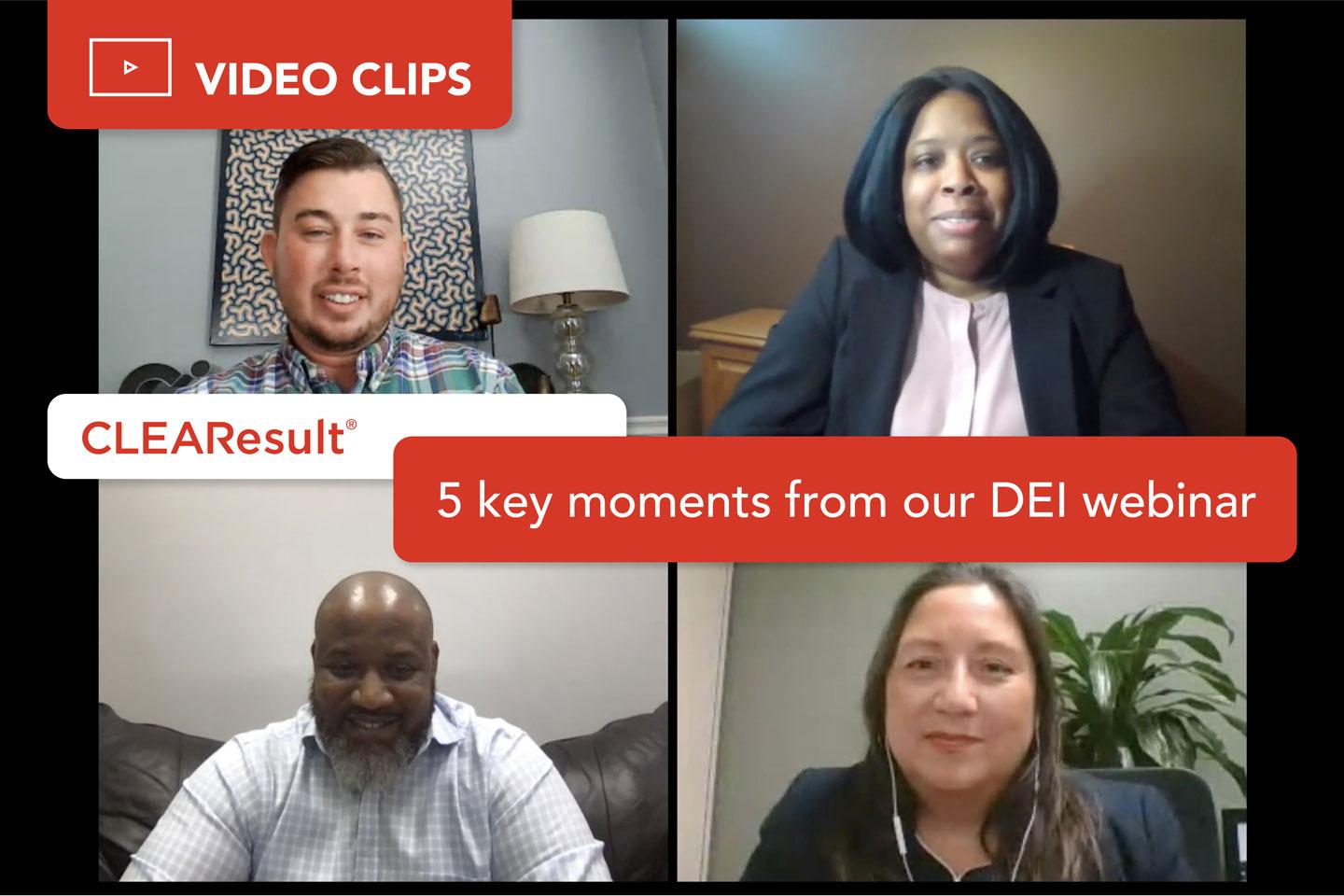 In February 2022, we hosted our first webinar focused on diversity, equity, and inclusion (DEI) for energy efficiency programs. Our moderator and Partner Diversity Regional Lead, Andrenika Whisenton, shared her expertise and led our three guest speakers through a range of research, common misconceptions and strategies that program managers, partners and other leaders can put into action right away.
Watch the full hour-long webinar here to dive into every detail or browse through the clips below for five key takeaways that you'll want to share with your teams. Itching for more DEI discussions? Follow us on your social channel of choice or send us a message to be the first to know when the next webinar takes place!
1. Improving DEI must be done intentionally.
The benefits of DEI are abundant and clear. "DEI breeds creativity, innovation and an enhanced sense of belonging and engagement for everyone," Andrenika specified as she kicked off the conversation. ""For these efforts to truly be successful," she continued, "there must be acceptance from all of us…DEI doesn't just happen, it has to be intentional."
Actively designing energy efficiency programs to address the inequities faced by underserved communities, such as disproportionately higher energy burdens and environmental costs caused by climate change, is necessary to achieve our common goal of lowering energy use. For example, low-income households spend three times more of their income on energy costs than non-low-income households. They are also more likely to live and work in energy inefficient buildings and less likely to easily access the resources needed to lower their costs.
By intentionally designing energy-saving rebate and assistance program to reach these customers, efficiency programs will be able to upgrade the most outdated energy systems, reduce the impact on our environment and improve people's lives by saving them money all at once.
2. People of color prioritize the environment more than white people. 
There's a common myth that people of color are only focused on the costs of their energy use and not on the environmental impact. During our conversation however, Nathan Shannon, President and CEO of the Smart Energy Consumer Collaborative, presented research that showed just the opposite. In their study on "Racial Disparities Among Lower-Income Energy Consumers", the data showed that people of color, and black people in particular, were more likely to prioritize the environment than white people and have heightened concerns about air quality and pollution in their communities.
This increased concern was also linked to a higher interest in smart energy technologies and energy data sharing programs commonly connected to smart thermostats. The key for energy providers and program managers? Education, messaging and empathy can help you tap into a customer base that is very ready to engage.
3. Advance diverse businesses by breaking down barriers.  
When it comes to DEI for businesses, partnerships are key. Small businesses owned by people of color in particular are often left out of the partnerships and processes needed to advance and scale quickly. To help these businesses thrive, Sylvester Johnson, our Director of Supplier Diversity, says that it all starts with barriers and giving people the resources they need to overcome them.
"We have to make sure that we're intentional," Sylvester reinforced. "We're putting these things in place so that we can take these businesses to the next level because we're doing so much to contribute back to these communities that we want to help, that we want to see grow."
For energy efficiency programs and larger organizations, these means creating easier pathways for small businesses to form those necessary partnerships that connect them to capital and other accelerating solutions available in their communities.
4. Actively participate in your local communities.
How can energy efficiency programs build stronger community partnerships? Get involved! Connecting with organizations and businesses that have longstanding trust in your community can give your programs greater validity and increased engagement, especially amongst traditionally hard-to-reach customers.
This is your chance to get creative and think beyond the box that energy efficiency or transition programs occasionally get trapped in. Activities like participating in local clothing drives, volunteering with community food banks, or setting up a free EV test drive event are just a few ideas from our discussion to help your team get the ball rolling.
5. Address local language barriers, including simpler English.
Recognizing local language barriers is an important step towards improving DEI in your organization's program strategy and figuring out which community you're missing isn't always simple. Most energy efficiency teams, however, don't have the appropriate staff to fill the gaps that may be needed.
In our conversation, the panelists all agreed that there are many local translating services, small businesses and community organization that would be happy to help. These locally based organizations may also be more in touch with the language needs of your community and are often easier to access than you might think.
One thing most teams are able to address immediately is to identify opportunities to simplify the English in any current program materials to ensure that the messaging is clear, understandable and relatable to your local audience.
To make sure your program and team have all DEI details and strategies for success, we encourage you to watch the full webinar and keep the conversation going!
Have a question or idea for a future topic? Email our team at [email protected].
Go back