Go back
Q&A with Dr. William Burke, CEO & Founder of Virtual Peaker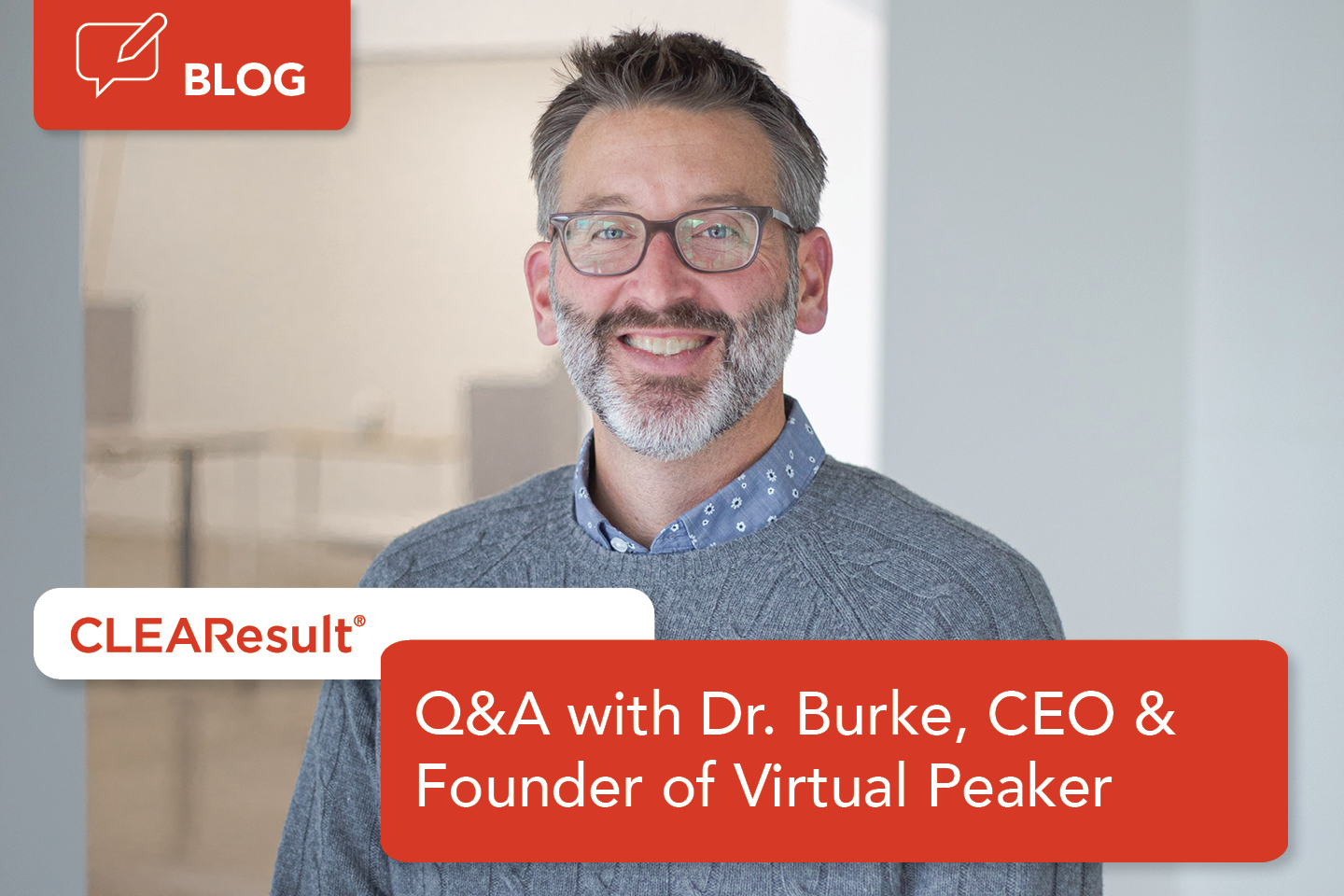 Last fall, we announced our partnership with Virtual Peaker, reinforcing our commitment to delivering innovative​ ​demand-side management programs to utility customers. We caught up with Virtual Peaker's founder and CEO, Dr. William Burke, to get his thoughts on our partnership and how our joint solutions drive utility customer engagement.  
 
Tell us a little about Virtual Peaker
I founded Virtual Peaker in 2015, in response to a growing need for a more comprehensive distributed energy resource management system (DERMS). We built the software to be technology agnostic, meaning it's flexible enough to integrate and operate on a​n​y device. It was also important that we empower utilities and implementers like CLEAResult to have full control of their programs, so we created the only self-service DERMS platform on the market. As the industry matures, we design new modular product suites, features and capabilities to meet customer needs and enrich their experience.
From a company and team perspective, I like to say we're friendly. Our people are friendly, our tool is friendly, and our collaborations with partners are friendly! Friendly, to me, means we listen, we are responsive, and we do what we say we will–every time. This is one of our core values w​e​ live by daily.  
What was the motivation behind partnering with CLEAResult to deliver to utility clients?
CLEAResult is a leader in energy services and the volume of work the company has in its portfolio is incredible. Getting more energy-efficient and grid-responsive technology into the market is a massive undertaking that everyone benefits from, including Virtual Peaker.   
Our demand management capabilities, coupled with CLEAResult's decades of customer program expertise, create a comprehensive solution for utilities and their customers. Together we've designed a seamless customer journey—getting technology into households and then optimizing its use to support the grid. We've also crafted the utility program management experience by thinking through the challenges utilities face and what technology and automation can do to make running these programs easier, more accurate, and more accessible for them.
What are some of the ways Virtual Peaker makes these programs easier, more accurate, and more accessible?
Right now, Virtual Peaker is primarily focused on the residential market for demand management purposes. These programs mostly focus on:
Smart thermostat
Electric vehicle (EV) managed charging  
Water heater  
Behind-the-meter (BTM) battery
What's unique about Virtual Peaker is that we can manage all these programs on a single platform, and many of our clients are doing just that.
Our platform reduces the guesswork utility program managers deal with by incorporating a utility system-level load forecasting tool within the platform. We see organizations benefiting from the software's grid congestion insights by turning them into actions with tangible, valuable results. This also helps programs transition from the standard demand response models of the past to demand flexibility and even virtual power plants (VPPs).
What has the initial feedback been from utilities in the market?
It'​s​ been positive. We find that most utilities are not interested in building these technology capabilities in-house—it's expensive and complicated—and many are intimidated to run these programs on their own. Bringing in partners like CLEAResult can help utilities that aren't comfortable staffing up for this demand management revolution.
That said, the utilities we've heard from are ready to start planning, launching, or scaling their demand management programs. Our clients view our technology as a highly valuable resource in their transition. Even small municipalities and cooperatives are thinking about leveraging distributed energy resources to make their grids cleaner and to keep costs low.
What about the future of utility customer engagement are you most excited about?
We aspire to a seamless customer journey. Knowing where a customer is currently and building an easy path for them to contribute to the energy transition is why we're doing this work. It's more difficult to do than it sounds—we must use data to understand each customer and their challenges to help guide them to the right programs. Like home improvements that put weatherization and insulation in before an HVAC replacement, we know there's an optimized order of operations. Our journey with them addresses energy efficiency first, demand management next, with virtual power plants as the end goal.
Some utilities will take this one step at a time, some will do it all at once. I don't think there's a right or wrong strategy, as long as utilities are engaging with and educating their customers along the way. The real work is to get everyone involved, including more low-income and underserved customers, not just the tech-savvy early adopters. We are excited to keep evolving this partnership with CLEAResult, deliver outstanding demand management programs, and constantly improve.
______
To learn more about how CLEAResult and Virtual Peaker's partnership can supercharge your utility programs, reach out to our ​Distributed Energy Resources team to request a demo. 
Go back