Go back
CLEAResult commits to reaching net zero by 2025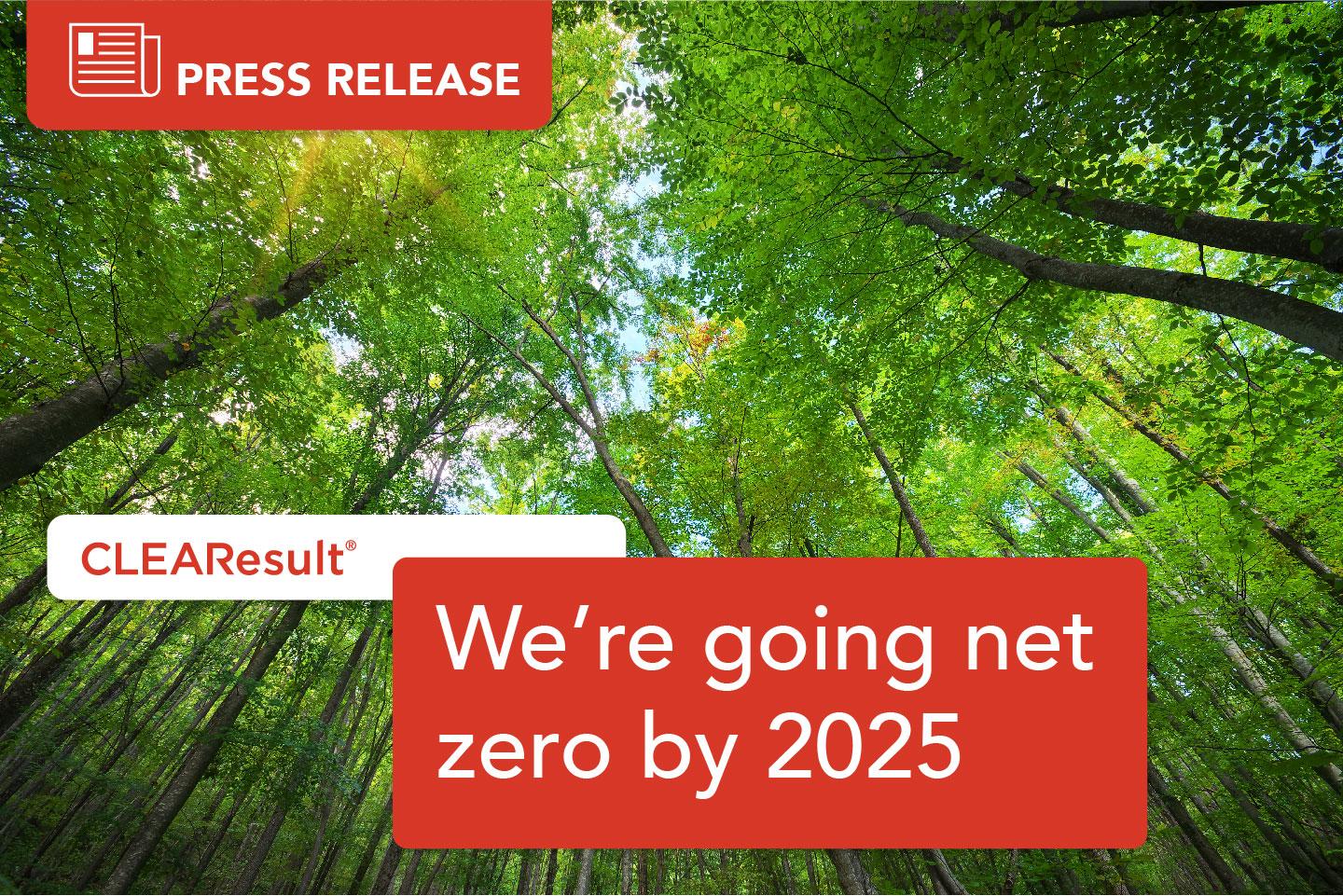 Austin, Texas (April 22, 2022)– Energy efficiency industry leader, CLEAResult, announced a new goal to reach net zero by 2025. The consulting company will transition to carbon neutral on scope 1 and 2 emissions by next year as its first major milestone in a three-year plan that aims to show businesses how to achieve climate and sustainability goals of their own.
As part of the announcement, CLEAResult released its 2021 Corporate Sustainability Report detailing its environmental, social and governance (ESG) ambitions. "Getting to net zero as fast as possible is not just a commitment to our investors, employees and communities" said President and CEO Rich McBee, "it's a strong reflection of our core values."
CLEAResult works with utilities and other organizations across North America to provide people and businesses with best-in-class energy efficiency, energy transition and decarbonization solutions. In 2021 alone, their team averted 22.8 million metric tons of CO2 through program work on behalf of clients. That impact is further represented by the over $9 billion in total savings on customers' energy bills, including more than $300 million saved in specific programs for low-to-moderate income households.    
Calculating CLEAResult's carbon footprint was the team's first step towards building a plan for decarbonization. "We followed the GHG Protocol Corporate Accounting and Reporting Standard for measuring our greenhouse gas emissions" Keri Macklin, Vice President of CLEAResult's Strategic Energy Management and Carbon Consulting Practices, explained. "Scope 3, also known as indirect emissions, is by far our largest GHG emissions contributor that we need to reduce to reach net zero."
The team will routinely refine and improve its approach to measuring their carbon footprint to keep sustainability goals on track. This will include projects such as fleet electrification, reducing business travel, evaluating all goods and services purchased with climate in mind, as well as ensuring that employees have the resources they need to feel confident participating in the reduction process.
"We will continue to intentionally grow our teams to reflect the communities we serve because we believe improving diversity, equity and inclusion is critical to remaining innovative and will only speed up our reduction focus," Rich reinforced.
Read CLEAResult's full 2021 Corporate Sustainability Report at www.clearesult.com/about/#sustainability.
About CLEAResult
CLEAResult is the largest provider of energy efficiency, energy transition and decarbonization solutions in North America. Since 2003, our mission has been to change the way people use energy. Today, our experts lead the transition to a sustainable, equitable, and carbon-neutral future for our communities and our planet. Our hometown teams collaborate with a diverse network of local partners to deliver world-class technology and personalized services that make it easy for commercial and industrial businesses, governments, utilities and residential customers to reduce their energy use and carbon footprint. CLEAResult is headquartered in Austin, Texas, and has over 2,400 employees in more than 60 cities across the U.S. and Canada. CLEAResult is a portfolio company of TPG's global impact group, The Rise Fund.
Explore all our energy solutions at clearesult.com.
Follow us on: Facebook | LinkedIn | Twitter | Instagram
Media contacts
Amber Tester
Director Corporate Communications
Go back