Go back
Case Study: Meals on Wheels San Francisco finalizes plan for fleet electrification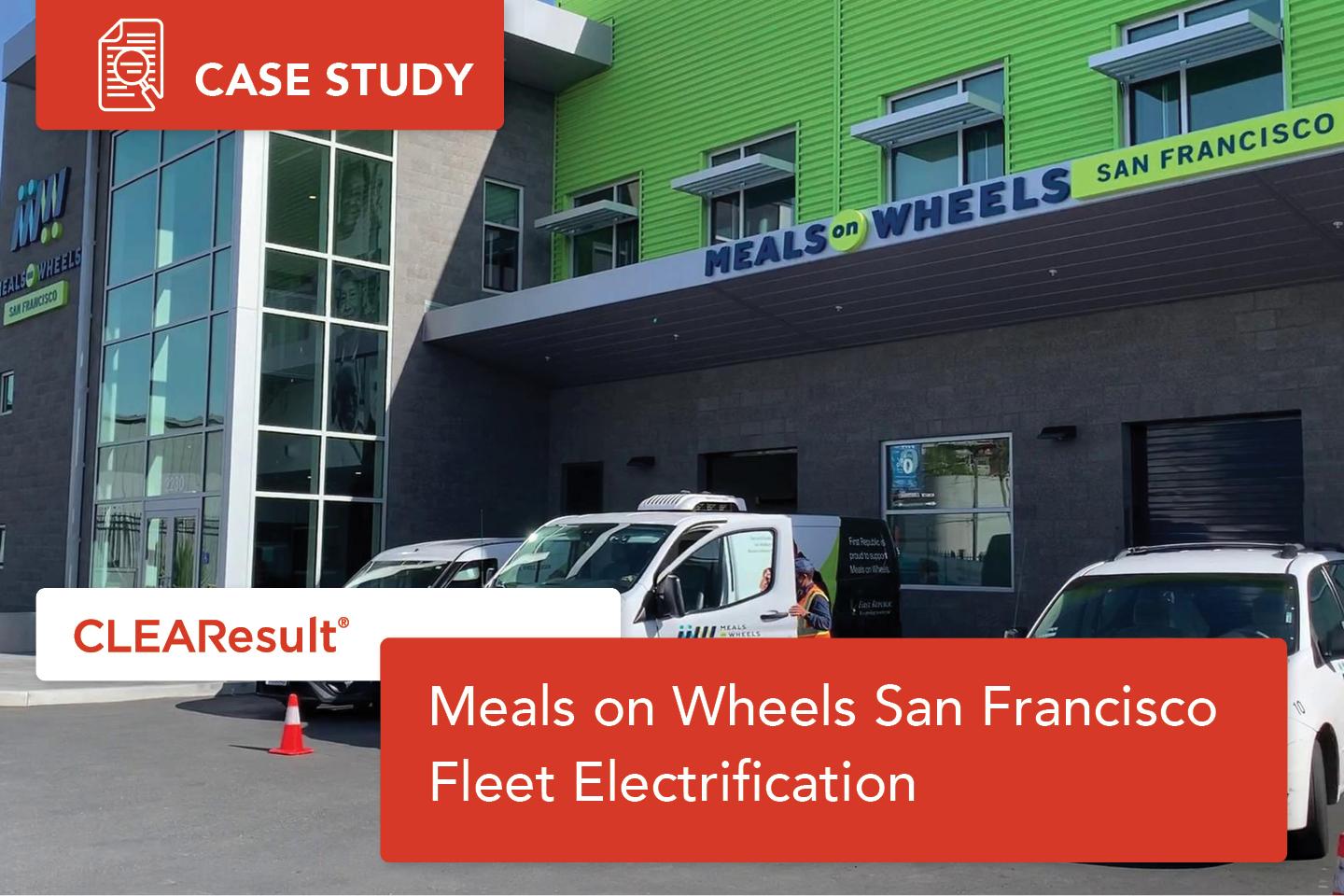 We teamed up with Meals on Wheels San Francisco to kick start their effort to electrify at least two thirds of their delivery fleet vehicles by 2027. Together, our teams developed a strategic plan to lower their fleet's carbon footprint by 52% and reduce annual costs by 23%–all while improving their community's environment.
Project background
Meals on Wheels San Francisco operates a growing fleet of refrigerated cargo vans that are used to deliver over two million meals each year to seniors and adults with disabilities. Already a positive force in the community, they recognized the opportunity to show leadership in sustainability as well by proactively addressing the greenhouse gas emissions of their fleet. They approached our energy transition experts with the challenge of evaluating their options for charting a clear course to integrate the vehicles, charging and funding needed to meet their reduction goals. Our team stepped up to provide technical expertise with a collaborative approach that engaged Meals on Wheels stakeholders from start to finish.
How we worked together
Bringing the San Francisco community nutritious meals in an environmentally sustainable way was an energizing challenge from the onset. We structured the work as a series of two-week sprints, each including data gathering, analysis and development of recommendations. A workshop punctuated each sprint and provided an opportunity to discuss key decisions, address questions and resolve barriers. One-by-one, we tackled goals, vehicle capabilities, charging infrastructure, total cost of ownership and funding opportunities. Many members of the Meals on Wheels team provided input, including department heads, drivers and their fleet manager, Frank Scott. Their contributions in the form of data and perspectives on delivering meals in some tight corners of the city made for the most robust and thoroughly vetted plan. The resulting plan is fully customized to the needs of their San Francisco team and will transition two-thirds of their fleet to EVs by 2027. We estimated that the transition will save over $3,500 per vehicle each year and reduce their fleet's annual carbon emissions by more than 200 tons.
Plan approved! What's next?
The Meals on Wheels Board of Directors unanimously approved the approach and comprehensive roadmap. With a solid plan in place, the team confidently moved ahead to the next stage of securing funding with the comfort of having our experts just a phone call away for support.
 
--
 
Transportation is changing fast but making sustainable mobility choices doesn't need to be challenging. CLEAResult is a leader in technology-enabled program solutions that provide customers a clear and affordable path to EV adoption, with the goal of dramatically reducing transportation-related emissions and delivering local health and economic benefits.
Whether you're a business starting from scratch or a government organization with specific goals in mind, our Transportation Electrification experts can jump in at any point to map out a plan that works for you.
Visit our transportation electrification page to learn more and contact to our team.
Go back