Go back
Lessons learned at the 2023 CLEAResult Energy Forum Inflation Reduction Act keynote panel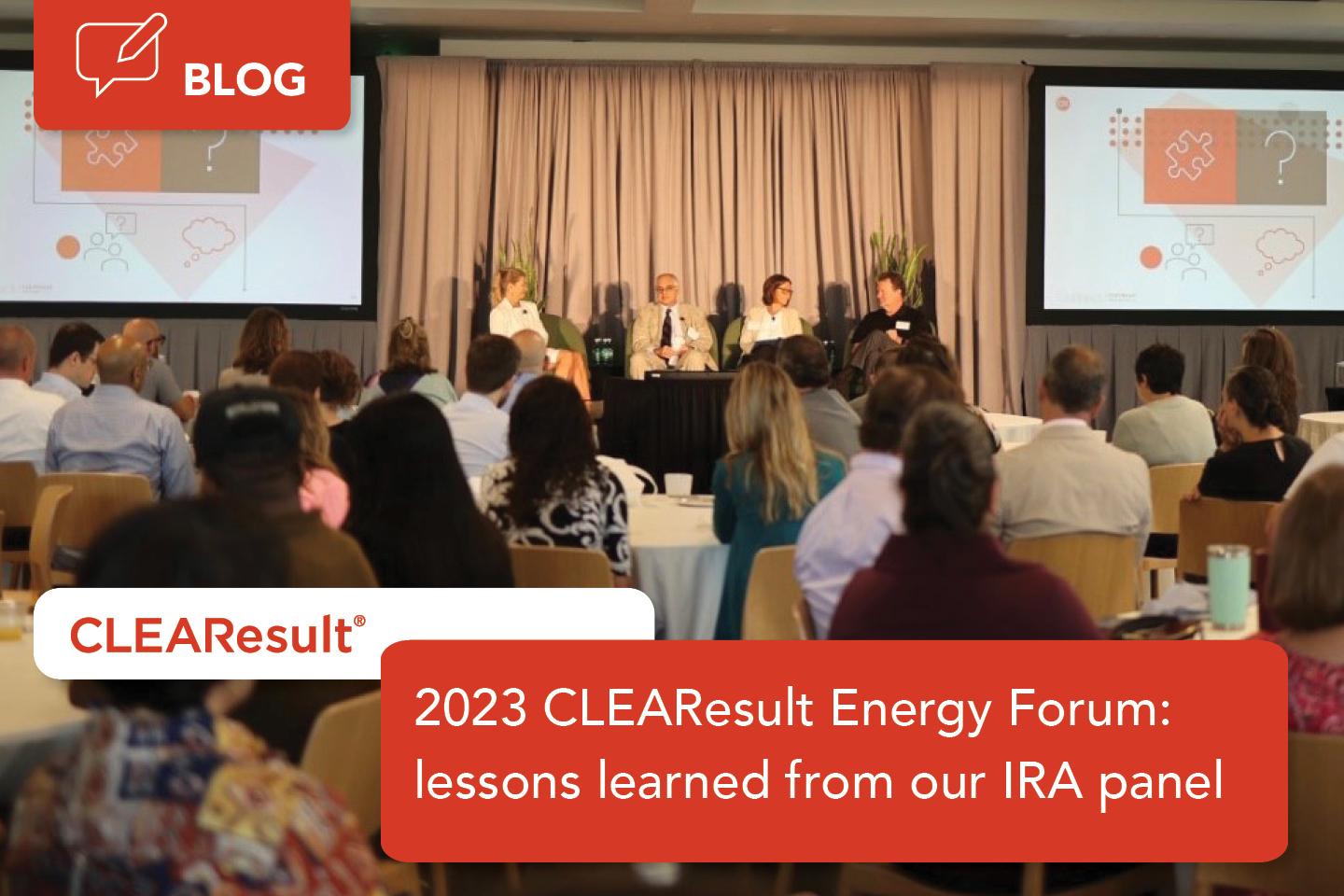 Our opening keynote panel at this year's 2023 CLEAResult Energy Forum addressed one of the biggest topics the energy industry has been focused on over the last year—the Inflation Reduction Act (IRA). Our panelists—Frank Rapley of Tennessee Valley Authority (TVA), Nola Hastings from the State of Tennessee and Rodney Sobin from the National Association of State Energy Offices (NASEO), and CLEAResult Program Director Mandy Faulk—discussed the implications of the IRA and how utilities and states can work together to maximize the impact of this historic legislation.
Here are some of the top takeaways from our panel:
Utilities and existing energy efficiency programs are in a unique position to help state energy offices.
State energy offices like Tennessee's see the IRA as an unprecedented opportunity. But aggressive timelines, the need to design multiple complex programs, and limited resources make navigating the application and implementation processes challenging. The state energy office had successfully partnered with TVA to implement ARRA funding, making them the obvious choice to help Tennessee maximize the impact of the IRA dollars.  
This follows the Department of Energy's (DOE) official guidance for IRA programs which "strongly encourages" collaboration between the states and existing utility programs to help streamline the process and improve the customer experience. While the guidance doesn't go into specifics on the utility-state partnership, TVA and the State of Tennessee are exploring what works best for them. Together, they are leveraging existing contractor networks, building rebate workflows that can accommodate IRA incentives, and identifying areas where braiding funding sources can improve the experience for everyone. The goal is to ensure that the IRA is executed in a way that benefits everyone in the state, including customers, contractors and utilities.  
The energy industry needs to prioritize workforce development and training.  
Labor shortages and experienced experts aging out of key trades are a concern for the growing energy efficiency industry. IRA programs will rely heavily on the same worker skillset, further driving the need for workforce development. Even utilities with large existing contractor networks may struggle in rural areas where there are only a handful of servicers to deliver upgrades to homes in need.  
TVA currently works with a variety of organizations across Tennessee including technical schools and community-based organizations (CBOs) to provide high-level building science or energy efficiency courses—delivering a decade of IRA funding will require even more of that. While the IRA does provide billions of dollars of funding for workforce development, it's up to the states (with the help of utilities and other entities) to identify those training opportunities and help grow the energy workforce.  
Find community partners or program advocates to help programs reach under resourced households.  
Energy efficiency programs are often most beneficial to low- and-moderate income (LMI) households but reaching those customers—especially in rural or hard-to-reach communities like non-English speaking populations—is a challenge. TVA works with a variety of organizations, including federal weatherization assistance programs, Medicaid providers, and CBOs like Central Hispano of East Tennessee to help expand their reach and help educate customers of LMI program offerings. This collaborative approach is necessary to make sure IRA program funding reaches the energy burdened households it was intended for. This is a great opportunity for states and utilities to leverage existing relationships and develop co-marketing initiatives to underserved populations that ensure IRA programs reach their intended audience.  
The time for action and collaboration is now.
With the DOE's application guidance in hand, most states are officially formulating their plans for the IRA's home energy rebate programs. Frank Rapley of TVA strongly encouraged utilities to reach out to their state energy offices now, if they haven't already. Many states have little to no experience running energy programs and will welcome the collaboration, experience and resources that utilities can provide to ensure these programs maximize their impact. This is an exciting time for the energy efficiency industry and opening these lines of communication between states, utilities, public utility commissions, contractors and more will help guarantee the IRA is truly the landmark piece of legislation it was designed to be.  
The full session, Driving IRA Success Through Collaboration, can be viewed below. Stay tuned for more content and takeaways from the 2023 CLEAResult Energy Forum.  
Go back