Go back
Reimagining energy efficiency programs after EISA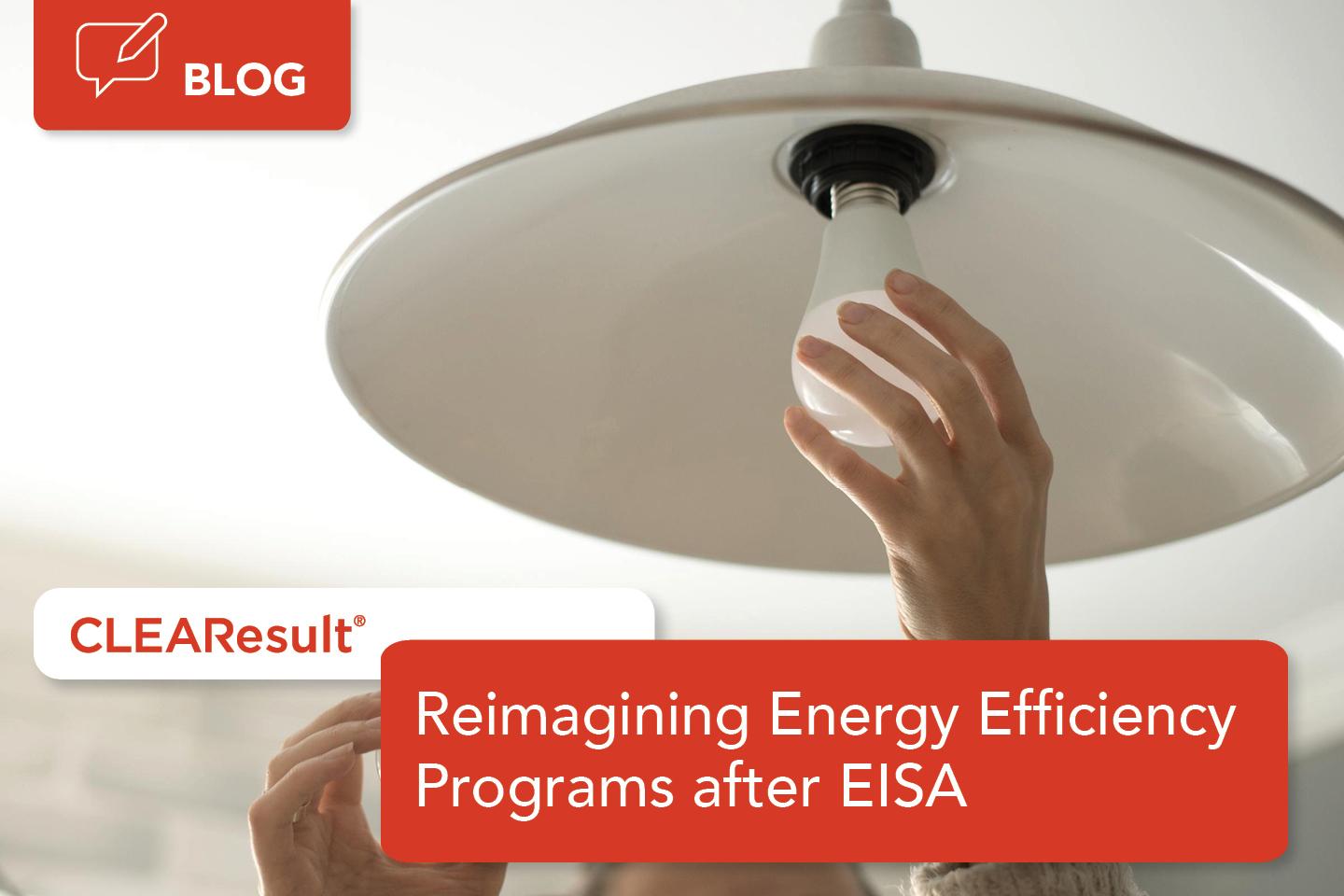 For years, residential lighting programs have been a key part of most utility energy efficiency portfolios. Retail markdowns on ENERGY STAR® certified light bulbs have provided cost-effective savings, high volume, and an attractive entry point for customers. The Energy Independence and Security Act (EISA) will bring changes to the retail market in 2023, transitioning to an all-LED market for most commonly used light bulbs. This change, and the shifting baselines associated with it, will impact many current energy efficiency portfolios, requiring utilities to reevaluate and refresh their current savings programs to better serve their customers.
EISA refresher
The Energy Independence and Security Act (EISA) was passed in 2007 and rolled out in two phases. The first phase set new efficiency standards, sunsetting incandescent A-line bulbs in 2014.  The second, enacted in July 2022, outlined a "backstop condition" requiring all general service lamps (GSL)—which includes A-line bulbs, candles, globes, and reflectors – to meet the LED standard of 45 lumens per watt. 
The effective date for the backstop condition is fast approaching. By mid-2023, retailers will need to remove non-compliant GSL bulbs from their shelves and exclusively stock LEDs. A transitionary enforcement plan will give retailers until the end of February 2023 to avoid reduced penalty fines. Starting July 1, 2023, enforcement will be in full effect with the associated penalties. 
For more details about EISA, read our post from earlier this year.
Date of Distribution or Sale in the U.S.
Period of Transition
Explanation
Source: Enforcement Policy Discussion for General Service Lamps (GSLs)
Beginning effective date of the backstop rule through December 31, 2022
Enforcement leniency period
Enforcement Discretion: Leniency to account for transition lead times
January 1, 2023, through February 28, 2023
Progressive enforcement
Enforcement Discretion: Warning notices in consideration of transition lead times
March 1, 2023, through June 30, 2023
Enforcement Discretion: Reduced penalties in consideration of transition lead times
Beginning July 1, 2023
Enforcement flexibilities end
Full enforcement of the GSL rules
Program impacts and questions
EISA's push toward an all-LED market will be a positive change for energy efficiency and shoppers. Customers who haven't already made the switch will see energy savings from LEDs and utilities will benefit from this reduced energy usage. In the immediate term, utilities have some work to do to reassess programs that have incentivized LEDs for years—we estimate up to 95% of products that are currently incentivized in residential programs fall under the GSL definition. EISA will have a smaller, but significant, impact on commercial lighting programs as commercial end-use products such as tubes and troffers will remain unaffected.   
 
With retail shelves consisting of entirely LED bulbs, consumers won't have the same efficient versus inefficient choice to make for most lighting products. This lack of an inefficient option means utilities cannot incentivize customers to make the more efficient choice. While this will have a positive effect on energy consumption, it will greatly reduce the savings potential for retail programs that rely on lighting as a cost-efficient measure. Utilities may try to incentivize higher quality LEDs, like ENERGY STAR certified bulbs, but may struggle to prove that their program incentives prompted customers to choose LEDs (free ridership). This could impact net-to-gross savings, as well. Long-term measurements like lifetime savings could also significantly affect program viability as the long-life of LEDs reduces the need for future replacements.   
 
There also remain key questions around how this change will affect low-or-moderate (LMI) income customers. EISA does include "enforcement discretion" in LMI communities that may feel a disproportionate impact from removing the cheapest bulbs (halogens) from shelves. Some programs may continue to incentivize LED bulbs for LMI customers but shifting baselines could reduce savings if retailers no longer have inefficient GSLs in stock. 
Take action now
These changes have been in sight for a long time and many utility portfolios no longer heavily rely on retail lighting savings. However, utilities must prepare for losing the high volume and cost-effectiveness of LED bulb sales and the resulting savings gap in many portfolios as soon as 2023. There is no single solution or quick fix, so utilities will need to assess the impact EISA will have on their programs and find new, cost-effective measures or program types to replace any lost lighting savings to drive engagement and customer satisfaction.
Here's where to start:
Go back