Go back
Lessons learned from our Exploring School Energy Journeys webinar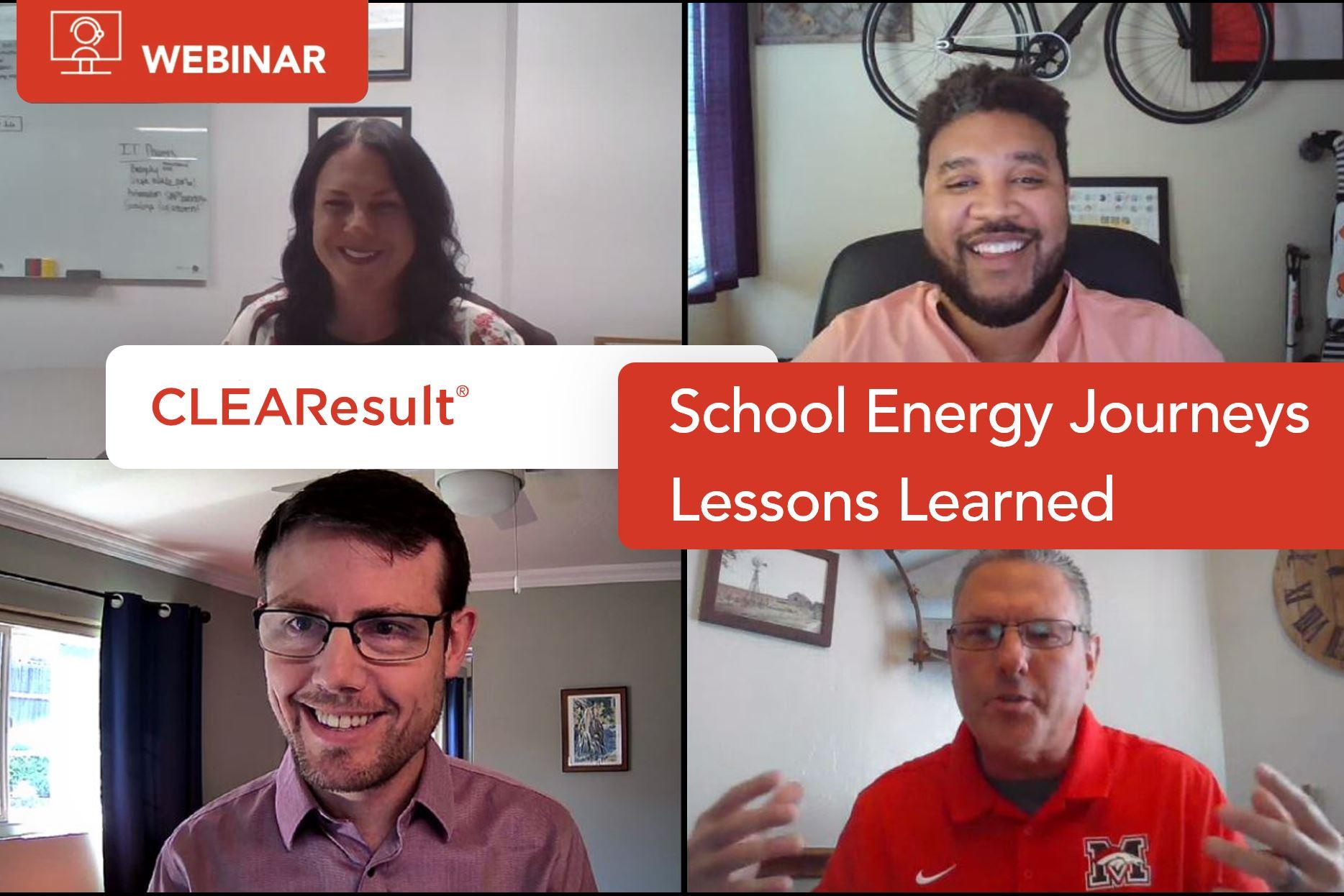 In our electrifying recent webinar, we dove into why schools are a hot spot for energy efficiency programs. With our dynamic Director of Transportation Electrification, James Russell, leading the charge and special guests from OG&E, Oklahoma City's Mustang Public Schools, and CLEAResult's field team we explored how OG&E's programs assisted Mustang Public Schools in overcoming various energy challenges and achieving their organizational goals.
Here are our top takeaways:
 
Energy savings in schools goes beyond lower utility bills
Alan Green, COO of Mustang Public Schools, has seen firsthand how embracing energy efficiency can lead to a big impact. While on-bill savings are a great motivator, the district quickly saw the true benefit of energy savings in being able to allocate that money toward high-impact areas like new teaching positions or resources for classrooms.  
Embracing a district-wide culture of energy savings
Creating a culture of energy awareness starts from the top and requires their 900+ teachers to be engaged and informed as to why their individual everyday energy use matters and how being mindful of it will lead to tangible benefits for everyone. With the help of OG&E, Mustang Public Schools were able to encourage behavioral changes, spread the energy savings message, conduct energy assessments, and create a culture focused on using less energy.
Lighting upgrades open the door to program participation
OG&E assisted Mustang Public schools in navigating incentive programs aimed at improving school lighting efficiency. This enabled Mustang Public Schools to save money by directly purchasing from wholesalers and qualifying for incentives. Switching to LED lighting allows schools to not only create a safe and clean learning environment for students, but also maximizes building efficiency during idle periods, such as after the last bell rings and the buildings are empty.  
Leveraging data to get administrative buy-in
Making big energy changes in a school district often requires detailed planning and administrative sign-off. Working with OG&E, Mustang received district-wide engineering studies and detailed reports to help make the case to the administration that the funding needed to upgrade facilities would be beneficial in the long term. The data helped Mustang Public Schools make their case for a variety of projects including some projects that were paid for entirely through incentives!
To dive deeper, watch the webinar on energy efficiency programs in schools here. 
Go back