Go back
Maximizing energy savings for military bases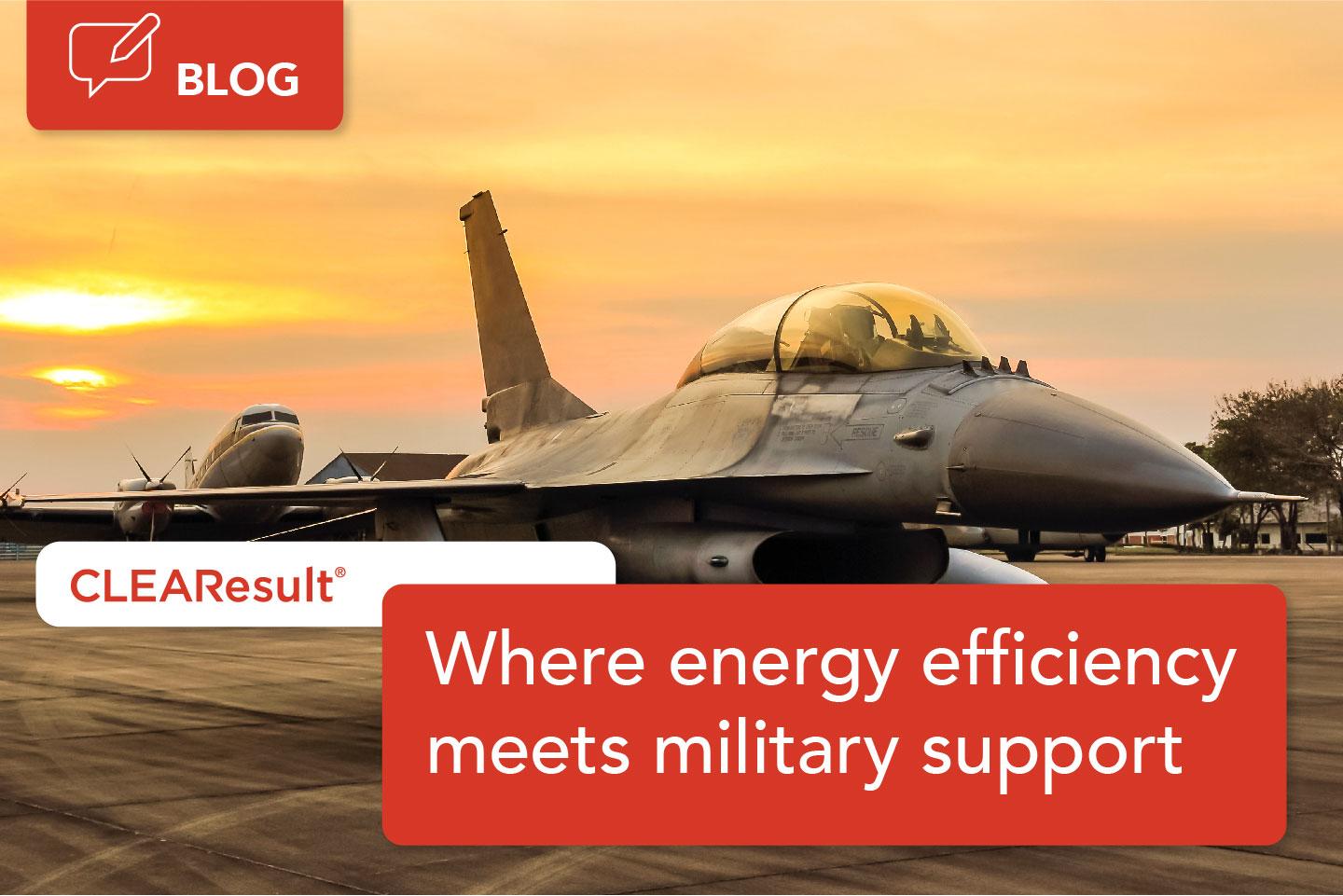 This past Fourth of July, we reflected on the work we've done partnering with military bases across the U.S. As with every project, our goal was to conserve energy and costs. Our local field teams collaborate with each base to identify and implement energy efficiency upgrades that would make significant impact on energy savings, maintenance costs and more. Today, we're highlighting three of these projects and the ongoing work our utility partners are doing to better their communities and help our military maximize their energy reductions.
OG&E — Tinker Air Force Base
 
OG&E and CLEAResult have partnered with Tinker and Honeywell to complete the Air Force's largest Energy Savings Performance Contract (ESPC).  This initiative made possible through a partnership with OG&E's Utility Energy Service Contract (UESC) constituted a base-wide energy efficiency improvement project including comprehensive LED upgrades and the largest compressed air project completed in OG&E's energy efficiency programs to date.
From 2017 to 2021, Tinker Air Force Base has saved approximately 38,947,000 kWh through the energy efficiency upgrades by switching from traditional lighting to LEDs. By switching over 100,000 traditional lighting options to LEDs and implementing other energy conservation measures, the base received a total of $3,232,413 in incentives from OG&E.
Since then, we've been in discussions with Tinker on new capital improvement projects including custom work on updating chiller plants, building automation systems, and additional compressed air improvements. Tinker has also recently enrolled in the Continuous Energy Improvement program we implement on behalf of OG&E, as well as our brand-new Fleet Electrification Management pilot putting the base well on its way to further energy savings.
Potomac Edison — Fort Detrick
The Maryland General Assembly launched the EmPOWER Maryland Energy Efficiency Act in 2008 after finding energy efficiency to be among least expensive ways to meet the state's electricity needs. Since then, Fort Detrick has taken advantage of the incentives offered by Potomac Edison's EmPOWER Maryland programs. The improvements we've seen over the past three years in working with Fort Detrick are paying off.
We have completed five projects including the installation of a new compressor, variable frequency drives (VFDs), and a satellite central utility plant. There are more projects underway as well, such as new construction lighting installations and more VFDs. Fort Detrick is also interested in HVAC Tune Up opportunities for their preventative maintenance program and leveraging our midstream program for day-to-day operations and maintenance work.  By the end of 2022, Fort Detrick will have received approximately $300,000 in incentives resulting in over 13,000 mWh in energy savings. 
Entergy Arkansas ­— Little Rock Air Force Base
 
The Little Rock Air Force Base (LRAFB), located on 6,412 acres outside of Little Rock, Arkansas, provides the Department of Defense with the world's largest fleet of C-130 Hercules. Being the fourth largest employer in the state, the LRAFB has a population of 13,893 and is comprised of active-duty military, their families, and civilians.

In 2021, Entergy Arkansas and CLEAResult completed lighting projects through Hunt Military Communities, who operate 994 homes on base. These projects qualified the base for incentives from the Entergy Solutions program on both residential lighting, as well as streetlamps throughout the multiple neighborhoods. This resulted in 763,000 kWh saved, over $91,500 of incentives paid, and more than $50,000 a year in reduced energy costs–a win for everyone involved.
We also installed numerous water-saving showerheads, aerators and vend misers accounting for an additional 174,968 kWh saved, $17,236 worth of incentives, and $12,247 in annual savings with only about one-third of the 994 homes completed. While the work continues to help the community upgrade its energy efficiency, there have been many discussions for us and Entergy Arkansas to look into providing even more pathways to savings for this base.
--
Through CLEAResult's history we've been honored to be selected for vital projects such as these that not only save energy and lead to greater efficiency, but they also have a positive effect on our communities and military operations.
Go back