Go back
Summer with our subject matter experts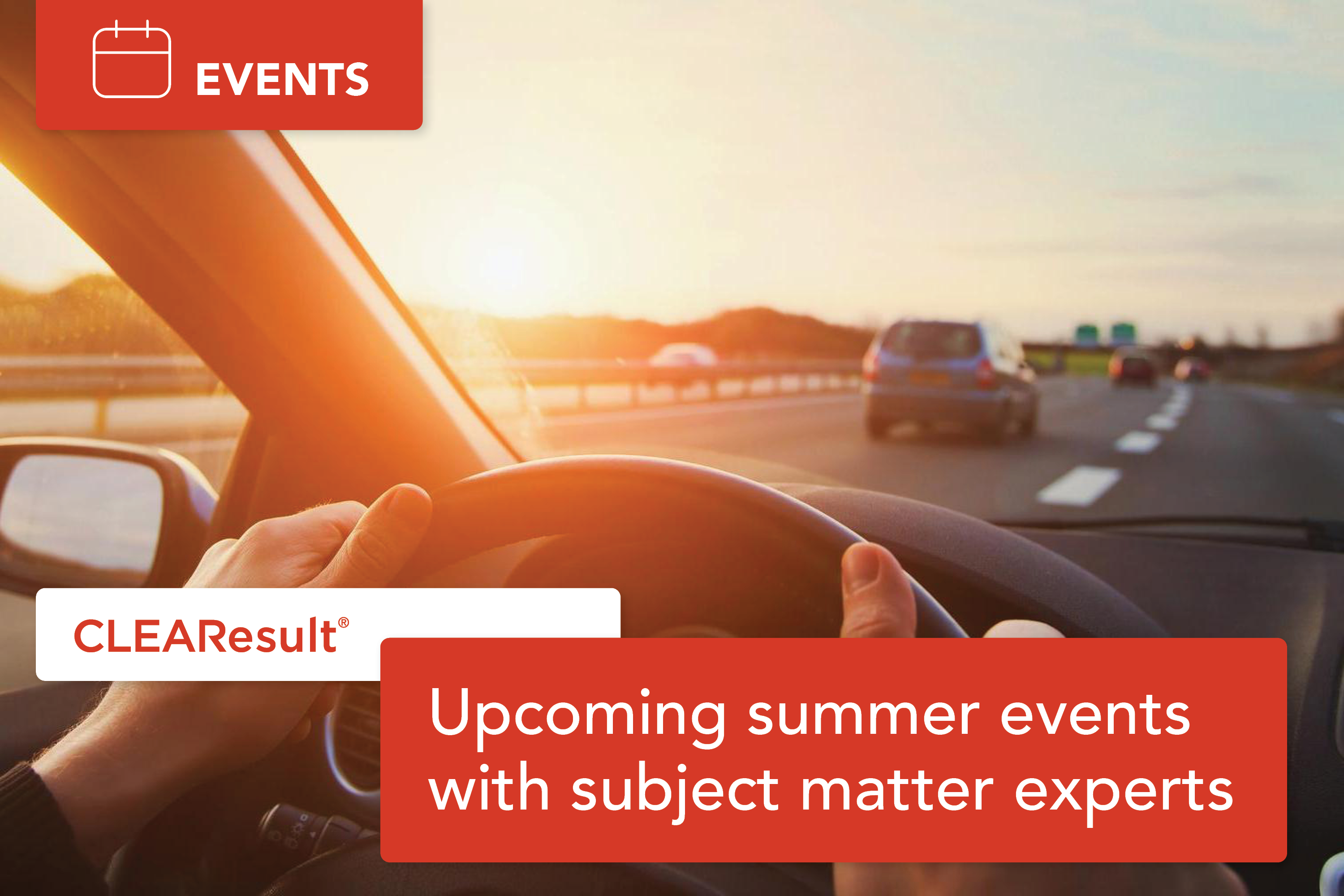 Summer officially began June 21, and our team of subject matter experts isn't taking a break.  
Driving innovation
Our energy transition team hit the pavement at Electric Power Research Institute's (EPRI) conference, Electrification 2022, and the Forth Roadmap Conference in late June. While opening for a Forth Roadmap Conference Keynote, Alex Scott, Business Development Vice President, spoke to the future of fleet management and fleet customer engagement in addition to the exciting benefits of our ChooseEV acquisition. Together, we offer a richer set of solutions for the adoption of electric vehicles that will continue to benefit our shared energy future.
Leading energy efficiency in the Midwest
You may remember our thought leader, Andrenika Whisenton, Partner Diversity Regional Lead, from the stages of the Association of Energy Services Professionals' (AESP) Annual Conference, the Midwest Energy Efficiency Alliance (MEEA) Midwest Energy Solutions (MES) Conference, and our own webinar, "Emphasizing DEI in Energy".
Recently, Andrenika stepped onto a new stage to shine a spotlight on the toughest energy issues facing the Midwest. Starting July 1, she joined the MEEA board of directors. Alongside many of our utility partners and other industry experts, Andrenika looks forward to kicking off annual planning at the upcoming board retreat, innovating industry solutions, and supporting MEEA committees and initiatives. We are on the edge of our seats to see the vast impact this group will have in 2022–2023.
Planting seeds of innovation
Jeannie Sikora, Senior Energy Engineer,  just wrapped a conversation on the state of agricultural efficiency in a presentation titled "Strategic Energy Management (SEM) for the Agricultural Industry" at the July 17—20 ASABE Annual International meeting. SEM adoption is on the rise for the agricultural industry thanks to cost-effective utility-led energy efficiency programs that create both savings and happy customers. Stay tuned to our social channels for additional conference learnings.  
These are the highlights from June and July alone; join our experts in the second half of summer at one of the below events.  
Upcoming summer events:
NGLCC (National LGBT Chamber of Commerce) International Business & Leadership Conference
When: August 2—5, 2022
Where: Las Vegas, NV
How to attend: Register today
Where to find us: From mission driven leadership to emotional technology for DEI strategy and improved communications tactics, our partnership team will be discussing business best practices as they attend the NGLCC conference — the largest LGBTQ+ business event on the planet. You will find us in the front row for the Energy & Utilities Cluster Session!
When: August 16—18, 2022
Where: Philadelphia, PA
How to attend: Register today
Where to find us: Our local team will make a splash at AESP's next impactful conference as we sponsor this event. Make sure to say hello!
ACEEE Summer Study on Energy Efficiency in Buildings
When: August 21—26, 2022
Where: Pacific Grove, CA
How to attend: Register today
Where to find us: We'll be sponsoring and speaking at this epic summer camp for energy professionals.
The powerful duo of Komal Dhankhar Kalyan, SEM Coach, and Daman Kochhar, Senior SEM Program Manager, will lead "Decarbonization & SEM: The Human Side of Energy Management" in Panel #8 on Wednesday, August 24.
When: September 13—16, 2022 
Where: Denver, CO
How to attend: Register today
Where to find us: Taking place in the last days of summer, we're proudly sponsoring this staple energy efficiency industry event. This year we'll bring a unique interactive community-focused experience to our sponsorship and booth. Intrigued? Stay tuned to Energy Forum for details!
As always, if you're interested in additional thought leadership, browse through our latest content or subscribe to our recently refreshed YouTube channel.
Go back