Go back
Think energy this spring at events featuring CLEAResult thought leaders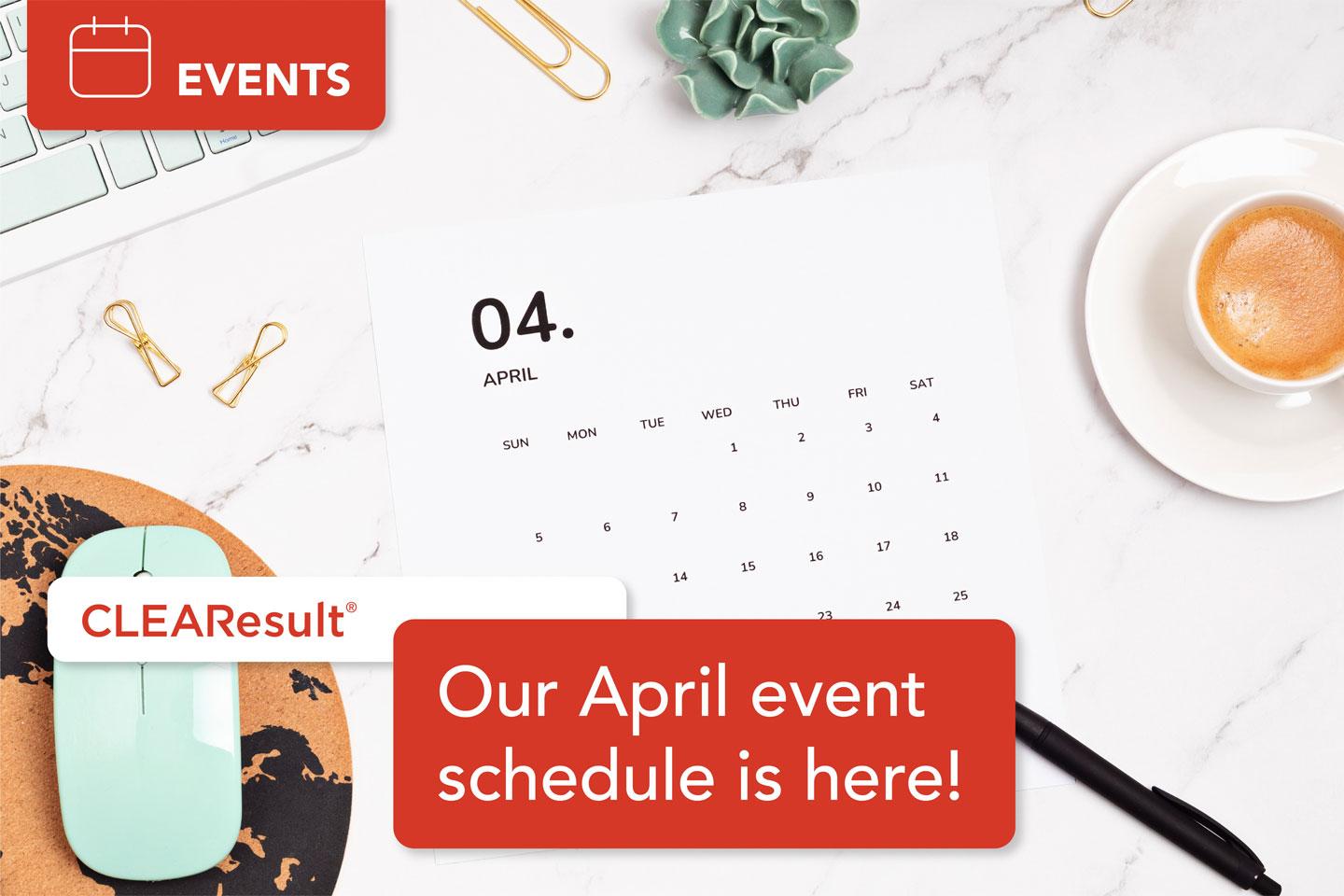 In March 2022, our team members were in the mix at industry events sharing their thoughts on important energy and environmental topics like tackling drastic weather changes in the south, addressing issues of energy burden, creating community engagement, lowering our carbon impact and more.
March Highlights
At the Texas Energy Summit, our team joined discussions around the upcoming Energy Efficiency Rule, new ways to balance energy demand considering the impacts of the recent winter storms, and opportunities to address energy burden disparities as Texas metro areas shift towards more progressive policies.
Andrenika Whiston dug into the root of crafting programs that work for communities. "We need to first understand their challenges and needs before we can successfully engage," she explained.  "Are we including those community members in program design? Is the community demographic represented in the program participation data?" are all questions we need to be asking to improve community trust.
Keri Macklin and a panel spoke to the financial and environmental impacts of Texas connecting to larger grids, as well as options for viable and reliable coal plant replacements. Keri highlighted the many opportunities that fossil fuel plants have to improve plant efficiency, increase output for the grid, and reduce parasitic load and its associated greenhouse gas emissions. This reiterates the golden rule of energy efficiency—the cleanest kWh is always the one not used. 
On St. Patrick's Day, we were lucky to hear from our own Jeannie Sikora during Resource Innovation Institute's CEA Utility & Efficiency Program Best Practices for Controlled Environment Agriculture Webinar. The panel discussed potential and proven approaches to resource acquisition and market transformation for energy efficiency programs that serve greenhouse or indoor operations focused on growing food or floriculture crops.
Ambur Buhl then closed out the month by sharing her expertise at the AEE East Conference during the "RCx Persistence in a California Utility Program" session. Her top suggestion—decide what's more important, verifying project-level savings or ensuring that individual measures are persisting. For Ambur, the answer is always Project level savings.
Lastly, during the ACEEE Hot Water Forum, Bruce Manclark drove home ways the importance of engaging with our trade allies who are often the first team members our communities communicate with in their homes to support utility programs. Bruce's tips for converting reluctant installers—leverage the supply chain, provide interactive training, share targeted and fixed price promotions, and serve as a resource.   
That's a wrap March! Here's where you can join us next.
APRIL EVENTS SCHEDULE
45th PLMA Conference: April 4—6, 2022
Where: Baltimore, MD  
How to attend: Register today
Where to find us: Visit our team in the Sponsor Lounge to discover how we can further customer engagement and meet customers where they are on their energy efficiency journey together through DR and DERs programs.  
2022 Southwest Utility Energy Efficiency Workshop (SWEEP): April 7—8, 2022
Where: Tempe, AZ 
How to attend: Register today
Where to find us: You'll find our team in the sunshine ready to discuss the region's emerging energy efficiency technologies and program design.
2022 National Home Performance Conference: March 23—24, 2022
Where: Nashville, TN
How to attend: Register today  
Where to find us: On the agenda and at our interactive booth!
Our Healthier Homes experts, Todd Miles and Keith Canfield will host a half day workshop titled "Designing, Implementing, and Evaluating Healthy Homes Pilot Programs" on Monday, April 11, 2022, at 8:30—11:30 a.m. CT.
Bruce Manclark is back with two more presentations this month.

Beyond the Garage and Basement: Overcoming the Challenges of Installing HPWHs in Small Spaces on Tuesday, April 12, 2022, at 2:30—3:30 p.m. CT.
Winning the Trades War: Encouraging the Trades to Participate in Programs on Wednesday, April 13, 2022, at 3:00—4:00 p.m. CT.

Kyle Chase, Senior Building Science Analyst will tackle "Smart Thermostats: Opportunities & Challenges" on Tuesday, April 12, 2022, at 2:30—3:30 p.m. CT.
SEM Coaches Tim Good and Robert Muldoon will present in "Multifamily Strategic Energy Management (SEM): A Creative Partnership for Energy Savings" on Tuesday, April 12, 2022, at 4:00—5:00 p.m. CT.
CLEAResult alongside TVA will host "Leveraging Technology and Innovation to Deliver Energy Efficiency in a Changing World" on Wednesday, April 13, 2022, at 1:30—2:30 p.m. CT.
ETS22: April 11—14, 2022
Where: In CLEAResult's hometown of Austin, TX 
How to attend: Register today
Efficiency Exchange 2022: April 14—15, 2022
Where: Online 
How to attend: Register today
Where to find us: You'll find our team actively engaged in the conference platform. We are the sponsor after all! Chat with us about continuing energy efficiency innovation to address demand and carbon reduction goals.
CEDMC 2022 Spring Symposium: April 21, 2022
Where: Los Angeles, CA or online 
How to attend: Register today
Where to find us: You'll find us talking about industry hot topics such as Decarbonization and our focus on carbon reductions, how DSM can provide a reliable resource through best-in-class program design, outreach approaches to deliver peak load reductions that support emergency reliability, and how we're reshaping all programs to increase the focus on our underserved communities.  
Can't wait to catch up? Watch our recent webinars on Energy Forum for a glimpse of what you're in for, or check out our Energy Efficiency, Energy Transition and Carbon Consulting practices featured in the events above.
Keep an eye on our social media for real-time updates and more! On April 7, we'll take a look at World Health Day through the lens of energy efficiency. How can our industry improve our communities' health? Follow us to find out.
Follow us on: Facebook | LinkedIn | Twitter | Instagram
Go back