Go back
Fleet Electrification: Developing Customer Campaigns and Offers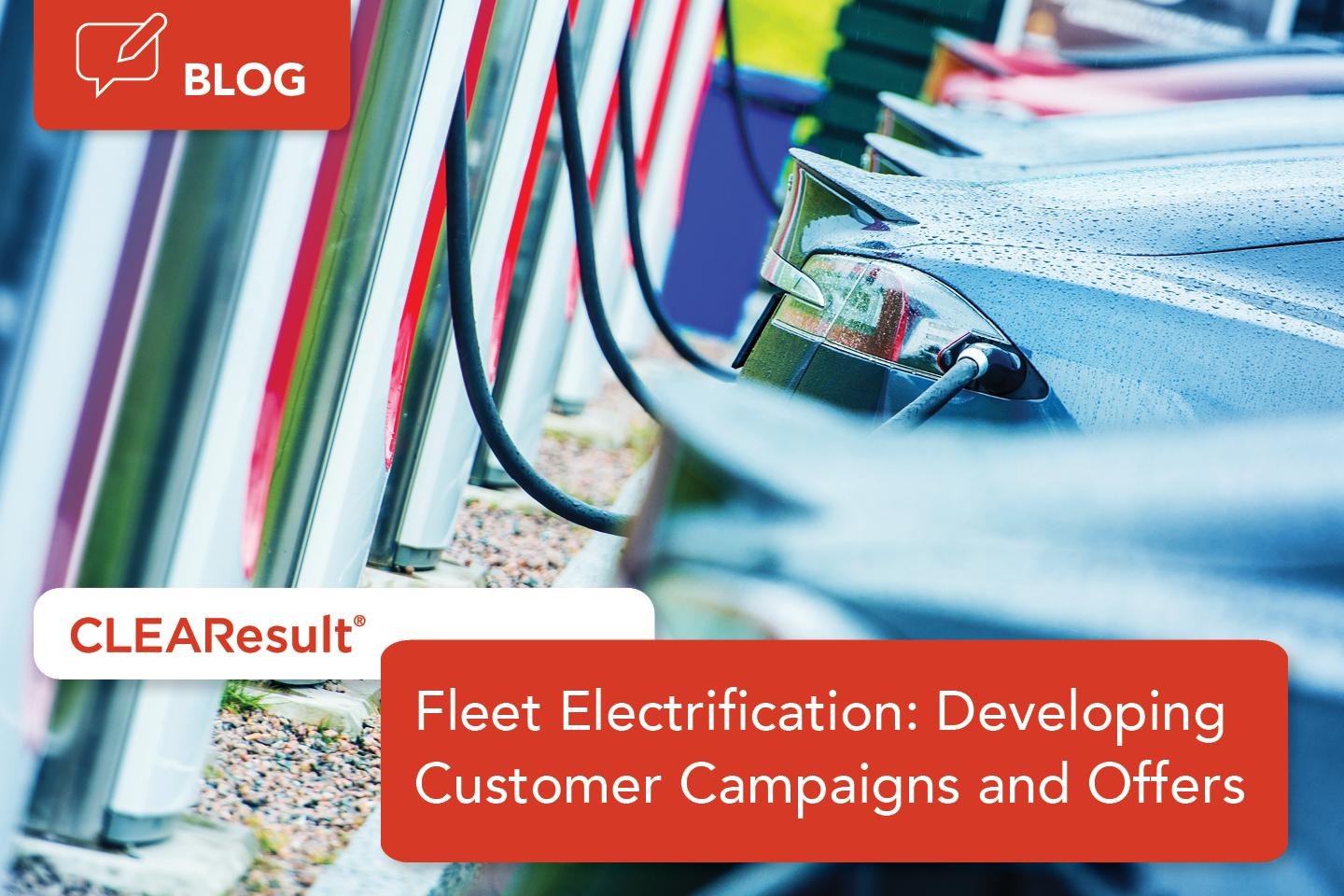 Fleet Electrification for Utilities: A Refresher
In previous posts, we've discussed the benefits of fleet electrification to utilities, evaluating your market, and positioning yourself as an advisor to fleet owners. Given the passage of the Inflation Reduction Act, we'd like to revisit some of these trending topics and provide a summary of what we covered.
Technological progress has made fleet electrification increasingly inevitable. Thanks to new federal and state regulatory attention on sustainability, this inevitability is now becoming a reality. As a result, there's more urgency than ever to stay on top of the monumental shifts taking place.
The financial gains of successfully executing integrated vehicle transitions that benefit the electric grid can't be stressed enough. Forecasts have shown that adding electric fleets to a utility's customer base can increase revenue and reduce average customer rates. To achieve a "just right" Goldilocks scenario, utilities should electrify as many fleets as possible, making targeted infrastructure investments.
To minimize a negative grid impact and mitigate customer satisfaction issues, it's vital that utilities stay informed and on top of current trends. Partnering with new fleet owners early in their journey enables utilities to control the conversation better and avoid issues resulting from unmanaged transitions.
Next, let's look at how utilities can offer funding support and remove barriers to customers while focusing on grid-friendly charging solutions.
Make Education Easy
Performing a market assessment, as discussed in our previous post, helps fleet owners and utilities understand the location and potential fleet demand. Our ChooseEV Digital Toolkit then enables utility customers to easily create comparisons between operating costs as well as explore the benefits of going electric. Customers enjoy a high degree of customization and are able to fine-tune various calculators to meet their exact needs. Their results start conversations and inform subsequent offers. What's more, this digital toolkit can be paired with marketing campaigns. The result? Utilities deliver engaging information that keeps fleet owners coming back.
Funding Support
Sustainability is top of mind for many organizations, but resources can be a limiting factor when making the switch to electric vehicles. There's no question that money talks. However, it doesn't have to be fleet owners' (or your) money. A growing number of federal, state and local grants are available to support fleet electrification, and our ChooseEV clients benefit from a constant curation of available opportunities.
Furthermore, we've found educational webinars on EV funding opportunities provide a strong ROI. Show your fleets how to obtain tens (if not hundreds) of thousands of dollars in investment, and they'll invest those funds in your territory. Some utilities have found this strategy to be so beneficial, they actively help customers apply for grants.
Fleet Assessment
The term "fleet assessment" is often stated as if it was just one thing. In actuality, there's a wide range of needs and vendor solutions. In our experience, municipalities are in need of comprehensive assessments, but often lack the resources and expertise. Large commercial fleet operators may have performed some work themselves and are seeking assistance with specific aspects of their plan. To meet customer needs and make effective use of program resources, it's important to align program offerings with the needs of specific segments.
Here is a breakdown of what this could look like:
 
Comprehensive
Targeted
Services
Goal setting and stakeholder analysis
Scoping EV charging requirements
Evaluation of EV compatibility and replacement schedule
Quantifying total cost of ownership (TCO) and emission benefits
Scoping EV charging requirements
Qualifying for utility-program incentives
Quantifying TCO and emission benefits

 
Qualifying available funding sources

 
Key customer audiences
Municipalities, schools, institutions, and customers in disadvantaged communities
Large delivery operators, transportation network companies
We collaborate with utility clients to characterize their fleet customers and provide best-fit solutions. For some, we organize comprehensive fleet planning workshops for cohorts of similar fleets, a highly effective and efficient way to deliver the appropriate bundle of services. Our white-glove service engages cohorts of up to 12 fleet owners. Together, we create strategic plans that build from our data and analysis with insights from expert speakers and the experiences shared through a peer network.
Implementation is Key
As fleets move from consideration to implementation and they navigate new service or service upgrade procedures, it's important to stay connected. Don't let the foundation you've spent time building get lost in a game of phone tag. Be prepared to bring strong partners to the table — internal teams and potential external partners. We have a strong network of charging infrastructure implementation and operation partners available at your disposal. Lastly, don't forget to monitor and track progress toward your overall strategic goal.
Go back