Go back
Where are our experts? January and February 2022 events and more.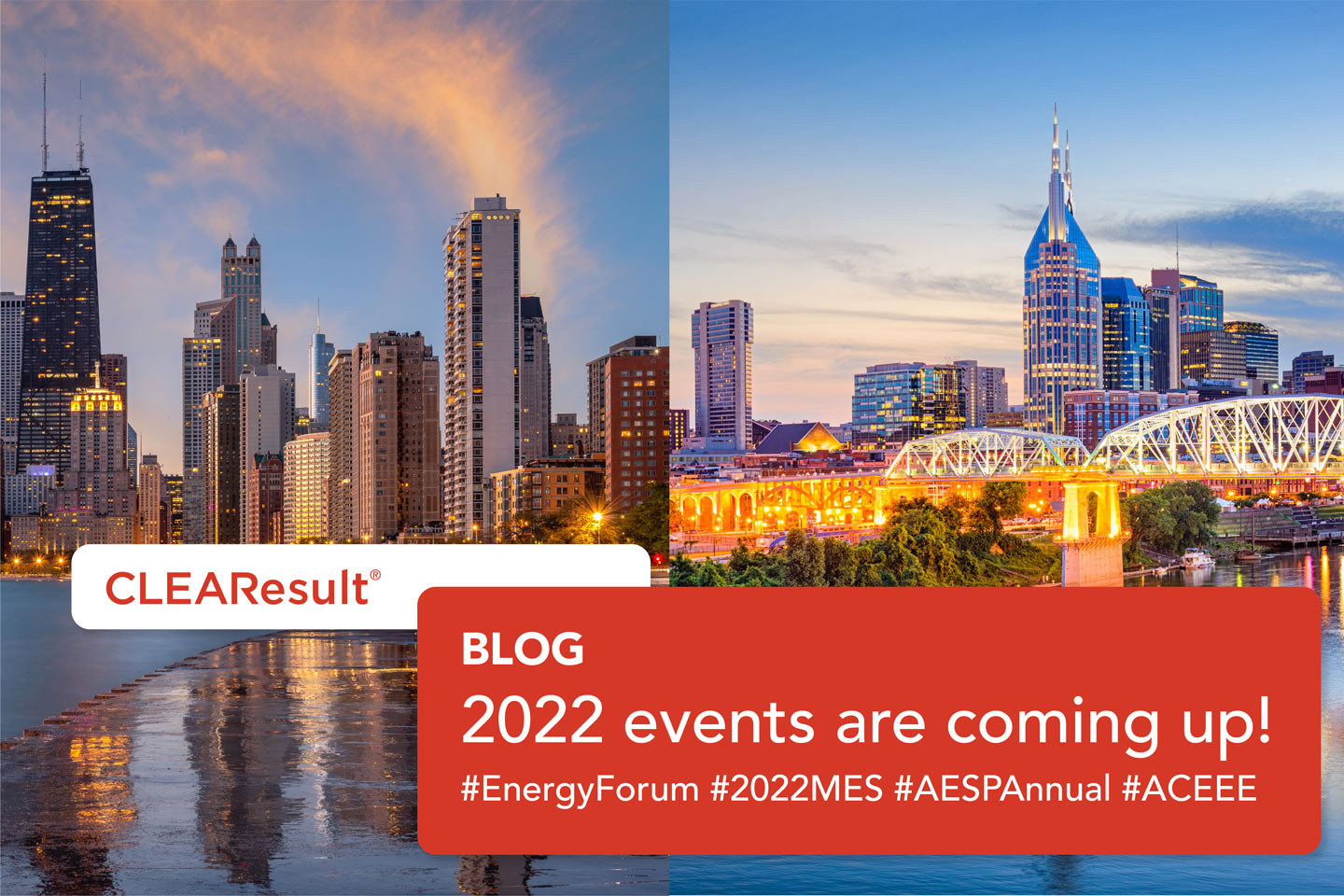 And just like that, we have passed the mid-point of January and our team members are ramping up industry thought leadership for 2022.
Last week, our own Residential Portfolio Lead, Seth Little, conveyed to ~85 ACEEE webinar attendees that our Virtual Energy Assessments are the real deal­–and not just due to cutting-edge tech enabling live augmented reality ​(AR) remote support, but most importantly, to the human connection and engagement they provide.
Seth, alongside moderator Reuven Sussman and ACEEE's Emma Cooper, who shared TVA Case Study Results, spoke to the importance of customer engagement being fostered by convenience, choice and control.
The options available for assessments, whether they be virtual, online or in-person, allow our clients to connect directly with residential and business customers and meet them where they are. Each option also encourages and enables increased program participation by giving customers active roles in improving their energy efficiency to save money and energy while protecting our environment all at once.
A big thank you to all that took part in the lively Q&A segment! You can watch an on-demand recording of this ACEEE "Encouraging Home Upgrades and Meeting Climate Goals Through Remote Assessments" webinar on their website.
In February, we can be spotted speaking, sponsoring, and attending events in Illinois and Tennessee.  
In the Windy City, Andrenika Whisenton, Regional Partner Diversity Lead, will take the MEEA MES stage alongside Briana DuBose of EcoWorks, Katie Frye of Minnesota Power and moderator Mari Ojeda of Fresh Energy for "Energy Affordability Roadblocks and Strategies for Success". If you're in the area, come visit with our entire event team at our interactive booth on February 1–3.
From the Windy City to Music City, we're ready to Converge on Tomorrow's Challenges as the opening and closing keynote sponsor for AESP's 32nd Annual Conference & Expo February 7-10.  Together with AESP, we will welcome Shalanda H. Baker, Secretarial Advisor on Equity and Deputy Director for Energy Justice in the Office of Economic Impact and Diversity at the U.S. Department of Energy, to open the conference.
Our team will wrap up the week by moderating a much anticipated and to be announced closing keynote. Between the keynotes, Andrenika Whisenton will once again share diversity, equity and inclusion (DEI) insights as the moderator of a DEI and Utility Program session focused on leveraging internships with Energy Bees, ENCOLOR and Walker Miller.
James Russell, Director, Transportation Electrification, will highlight the newest data from our fleet programs and especially focus on how a cohort-based approach aides fleet managers with roadmap development. He will share the panel stage with ICF, National Grid, Exelon and Sparrow Energy.
Justin Pate, Southeast Operations Field Manager, will explore a smart stat case study with the audience and speak to innovative ways to address specialized customer segments.
An interactive version of the AESP 32nd Annual Conference & Expo agenda can be found here.
If you simply can't wait to hear from us or are unable to join in person, check out the latest on our Energy Efficiency and Energy Transition practices featured in the above events.
To join us live, register for either event at the links below!
Midwest Energy Efficiency Alliance Midwest Energy Solutions Conference (MEEA MES) February 1-3
AESP's 32nd Annual Conference & Expo February 7-10   
Go back