Go back
March energy events madness is here! See where our teams will be sharing their expertise.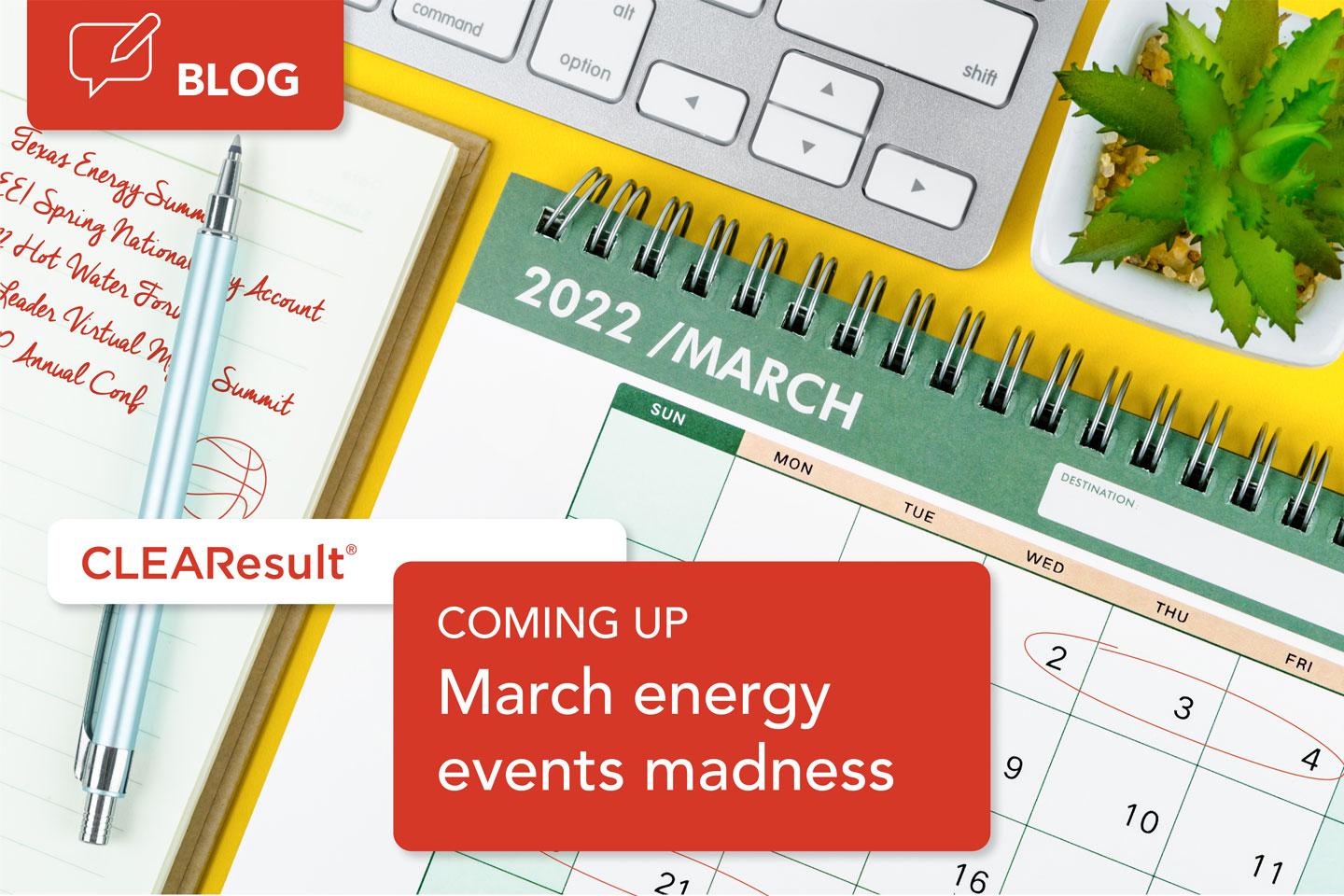 This march, we're heading into a final four of our own with four live thought leadership conversations at industry conferences. Our teams will be taking on topics from diversity to decarbonization and beyond. Take a look at our schedule below and register to join us live!
Can't wait to catch up? Watch our recent webinars on Energy Forum for a glimpse of what you're in for or check out our Energy Efficiency, Energy Transition and Carbon Consulting practices featured in the below events.
MARCH EVENTS SCHEDULE
Texas Energy Summit – March 2-4, 2022
Where: Texas State Capitol, Austin, TX
How to attend: Register today
Where to find us:
Andrenika Whisenton, Central Partner Diversity Regional Lead, will then share her expertise on "Engaging Communities in Sustainability and Resiliency" at 2:45 p.m. on Wednesday, March 2.
Right afterward, Keri Macklin, Vice President, SEM & Carbon Consulting Practices, will be leading a conversation around "Replacing the Highest Polluting Power Plants with Cleaner, More Reliable Sources" at 4 p.m.
CEA Utility & Efficiency Program Best Practices for Controlled Environment Agriculture
Thursday, March 17
1-2 p.m. ET
Where: Virtual
How to attend: Register today
Where to find us:
In Resource Innovation Institute's Harvesting Savings workshop of 2022, you will hear from CLEAResult's Jeannie Sikora and other subject matter experts about opportunities for resource acquisition and market transformation presented by efficiency programs serving greenhouse and indoor operations growing food and floriculture crops.
EEI Spring National Key Account Workshop – March 20-23, 2022
Where: Hyatt Regency New Orleans, New Orleans, LA
How to attend: Register today
Where to find us:
Make sure to connect with Daniel Cote, Sr. Manager of National Accounts, or any of our attending national accounts team in the conference app prior to the event!
2022 Hot Water Forum – March 21-23, 2022
Where: Virtual conference
How to attend: Register today
Where to find us:
Bruce Manclark, Senior Business Intelligence Consultant, will be walking attendees through "Winning the Trade Wars: Recruiting Contractors for Utility Programs" at 1:45 p.m. on March 21. He will then share his unique experience once again during the "Installing Heat Pump Water Heaters in Manufactured Homes" session at 3 p.m. on March 23. Don't miss out on these back-to-back Bruce speaking sessions!
Environment+Energy Leader Virtual Energy Management Summit – March 22, 2022
Where: Virtual summit
How to attend: Register today
Why join us:
What's better than a free conference? Getting to connect with our Green House Gas Management SMEs and industry leaders to hear their first-hand experiences of how they've found success.
AESP Annual Conference & Exposition – March 22-23 and March 29-31, 2022
Where: Virtual programming
How to attend: Register today
Why join us:
Missed any of our in-person events or want a refresher? Revisit all our thought leader's content above during this two-day event and learn even more with live Q&A sessions.
AEE East Energy Conference & Expo – March 23-24, 2022
Where: Duke Energy Center, Cincinnati, OH
How to attend: Register today
Where to find us:
We'll have two team members in the crowd ready to connect. Check our social channels for the latest info and where to find them!
Go back