Go back
May events are blossoming in the warmer weather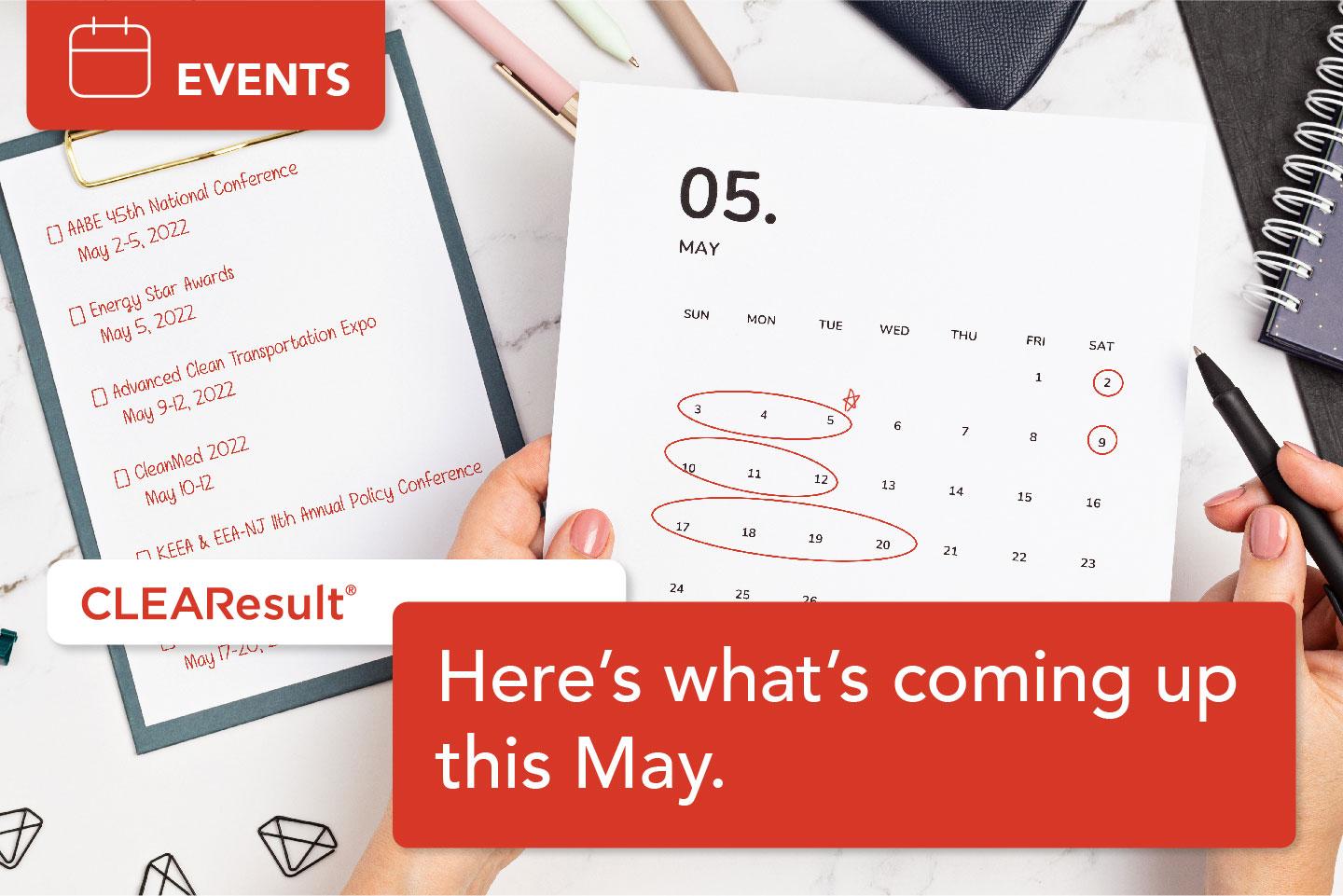 April events showcased a variety of important issues such as distributed energy resources and demand response, electrification, decarbonization, the transition to clean energy and energy efficiency in school districts. Before we announce our May events, here's a quick recap for April.
April Highlights
The National Home Performance (NHP) Conference featured eight of our leading thought leaders and experts:
Robert Muldoon and Tim Good presented how to leverage Strategic Energy Management (SEM) processes to overcome barriers for multifamily households. The duo focused on how SEM is a continuous and flexible whole building energy-saving solution.
Kyle Chase underscored the importance of teaching occupants how to operate smart thermostats to get the most from technology programs for contractors.
Bruce Manclark spoke on how to mitigate sound with heat pump water heaters. He also stressed the importance of selecting a tank best fit for the location available and how honing those carpentry skills will come in handy.
Edward Jennings used New York as an example of a city on the cutting edge of the electrification movement, which sparked conversation around electrification and decarbonization.
At the Peak Load Management Association Annual Conference, we had the opportunity to speak with Baltimore Gas & Electric about their past experience with DR challenges.
The California Efficiency and Demand Management Council (CEDMC) Spring Symposium gave us some west coast advice on the LA100's transition to clean energy programs. California records show that on one day in April, 97% of the energy being used was renewable.
Efficiency Exchange 2022 focused on overcoming hurdles to achieve energy efficiency in schools. Both urban and rural school districts were represented, engaging in discussion about their struggles and success.
See below for details on how to join our upcoming events this month.
Our May events schedule includes:
American Association of Black's in Energy (AABE) 45th National Conference - May 2—­5, 2022 ­
Where: Tampa, FL 
Where to find us: Our team will be by our exhibitor booth networking at this impactful forum with over 650 energy professionals.  
ENERGY STAR® Awards – May 5, 2022
Where: Virtual Celebration  
View Winners Here on May 5th  
Where to find us: Check out our Instagram, Twitter, Facebook, and LinkedIn social media takeover on May 6th where we'll be posting multiple videos congratulating winners.
Advanced Clean Transportation Expo – May 9—12, 2022
Where: Long Beach, CA 
How to attend: Register today
Where to find us: We'll be enjoying the warm weather and discussing the future of fleet, including today's most advanced vehicles, fuels and technologies.  
CleanMed 2022 – May 10—12, 2022
Where: Kansas City, MO
How to attend: Register today
Where to find us: On the agenda!
Todd Miles, one of our Healthier Homes experts, will be speaking about "Investing in Healthier Homes for Climate & Community Health" with co-speaker Ellen Tohn from Tohn Environmental Strategies. Check this out on May 12 at 9:00 a.m. to 10:15 a.m. CST.
Keystone Energy Efficiency Alliance (KEEA) & The Energy Efficiency Alliance of New Jersey (EEA-NJ) 11th Annual Policy Conference – May 11—12, 2022
Where: Philadelphia Navy Yard
How to attend: Register today
Where to find us: We'll be at our exhibit booth and on all marketing materials as Premier Sponsors of this conference. Come join us to discuss key policy issues.
Edison Electric Institute (EEI) Business Diversity Conference – May 17—20, 2022
Where: Los Angeles, CA
How to attend: Register today
Where to find us: We're sponsoring the conference and networking with industry professionals about DEI goals and diversifying the workforce at all levels.
Can't wait to catch up? Watch our recent webinars on Energy Forum for a glimpse of what you're in for, or check out our Energy Efficiency, Energy Transition and Carbon Consulting practices featured in the above events.
May is also Military Appreciation Month. Keep an eye on our social media for more!
Go back