Go back
New Program Brings Haida Gwaii Businesses No-Cost Energy Efficiency Assessments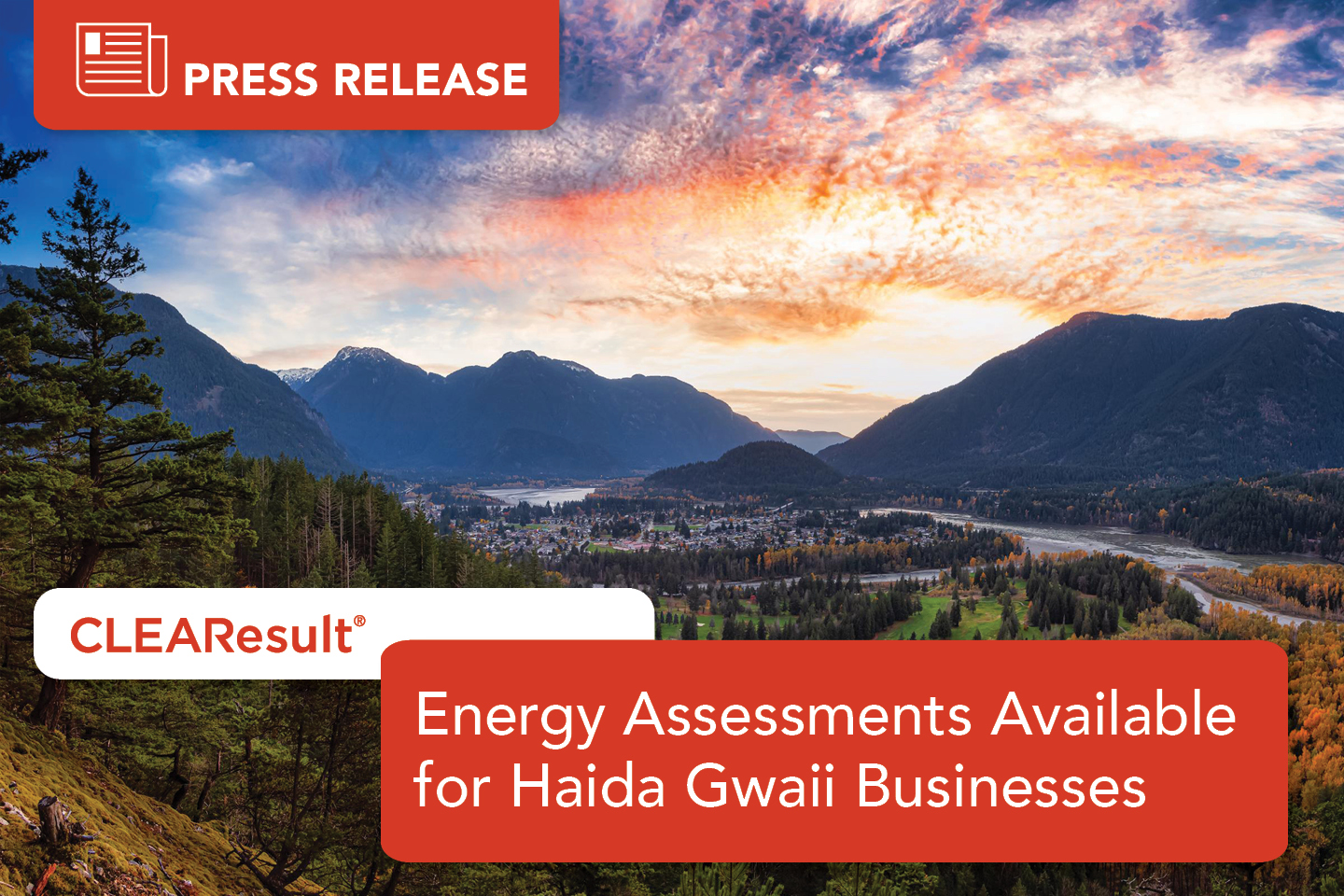 Austin, TX (December 21, 2022)—Businesses on Haida Gwaii can now sign up for no-cost energy assessments as part of BC Hydro's new Commercial Building Energy Efficiency Program (CBEEP), delivered by CLEAResult's local Canadian team, Ecofitt, who has a long history of community engagement in the region.
The commercial program is the first of its kind to provide businesses in the small, remote communities of Haida Gwaii with opportunities to reduce energy use through free energy efficiency upgrades. CLEAResult, Ecofitt and BC Hydro will be working closely with the Haida Nation communities of Skidegate and Old Massett to enable them to take full advantage of everything the program has to offer.
"Making energy efficiency easy and accessible for Haida Gwaii businesses is vital to protecting the unique environment of the islands," said Ryan Shaw, CLEAResult's Senior Vice President of Canada. "By working directly with community leaders, we can ensure we're providing a program that serves the specific needs of local businesses and indigenous communities."
CLEAResult, the largest energy efficiency, energy transition and decarbonization solutions provider in Canada and the U.S., was awarded the contract in October, marking the company's first commercial program in the area since acquiring Ecofitt earlier this year.
Participating businesses will receive an energy assessment to determine eligible upgrades, then switch to more energy-efficient lighting, heating systems and water fixtures, plus replace inefficient refrigerators and freezers as needed—all at no cost.
"Energy efficiency is one of our best tools for reducing reliance on diesel-generated electricity on Haida Gwaii," BC Hydro's Program Manager, Amy Seabrooke, added. "This new program enables our customers on Haida Gwaii to save energy and money while providing broader benefits to the whole community."
With residential and commercial energy efficiency programs now available, people living on Haida Gwaii have multiple options for saving energy and reducing greenhouse gas emissions.
Haida Gwaii businesses can find the full program details and apply for an assessment online.
###
About CLEAResult
CLEAResult is the largest provider of energy efficiency, energy transition, and decarbonization solutions in North America. Since 2003, our mission has been to change the way people use energy. Today, our experts lead the transition to a sustainable, equitable, and carbon-neutral future for our communities and our planet. Our hometown teams collaborate with a diverse network of local partners to deliver world-class technology and personalized services that make it easy for commercial and industrial businesses, governments, utilities and residential customers to reduce their energy use and carbon footprint. CLEAResult is headquartered in Austin, Texas, and has over 2,400 employees in more than 60 cities across the U.S. and Canada. CLEAResult is majority owned by TPG through its middle market and growth equity investment platform TPG Growth and its multi-sector global impact investing strategy The Rise Fund.
Explore all our energy solutions at clearesult.com.
Follow us on: Facebook | LinkedIn | Twitter | Instagram
Media contacts 
Amber Tester 
Director Corporate Communications  
Go back