Go back
CLEAResult readies support for Ontario's new and enhanced energy efficiency programs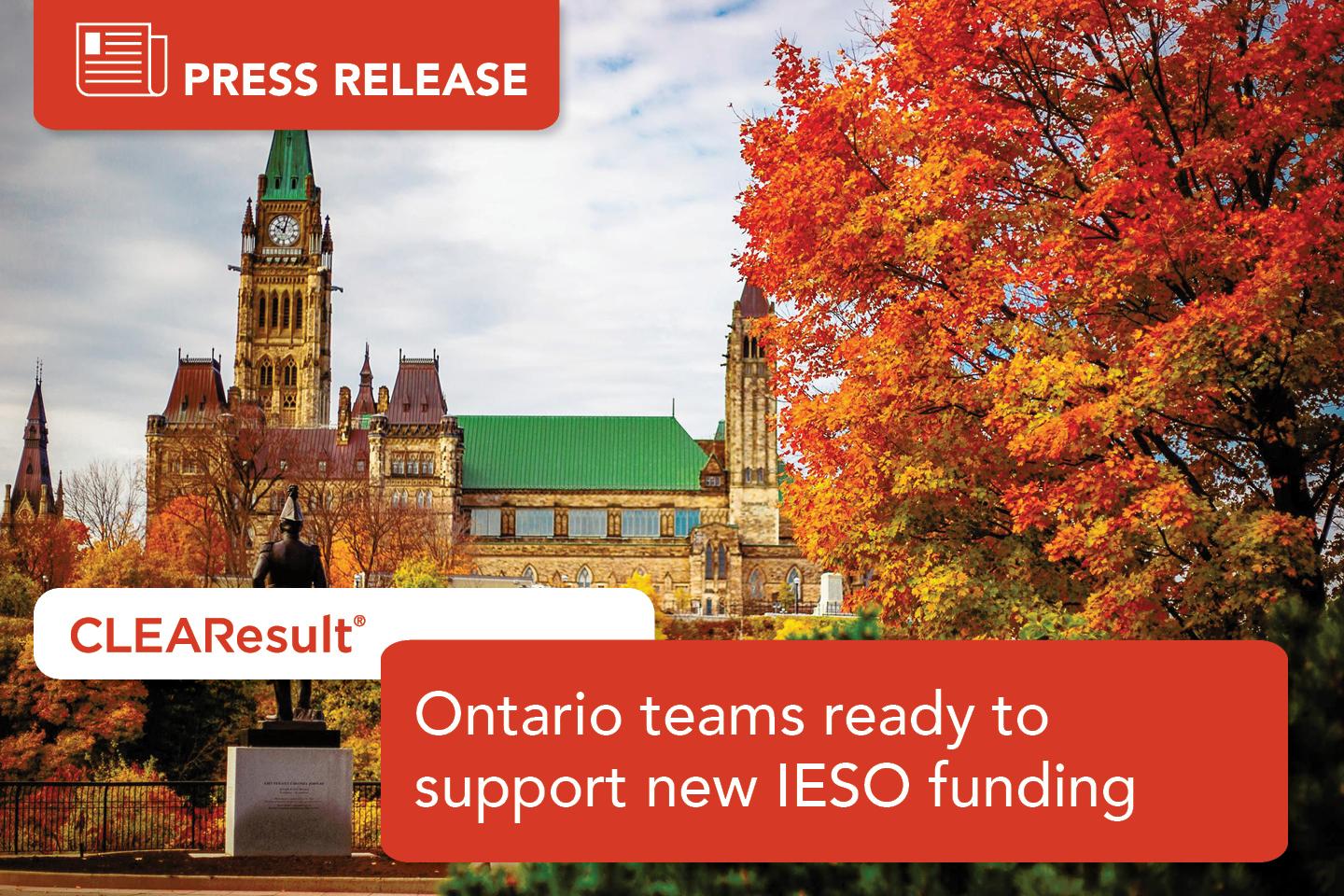 Austin, TX (October 6, 2022)—CLEAResult, the largest provider of energy efficiency services in Canada for residential and commercial and industrial (C&I) customers, is gearing up to quickly support the new and expanded energy savings programs announced by Ontario's Ministry of Energy, Todd Smith, on Tuesday. The ministerial directive increased funding for the Independent Electricity System Operator's (IESO) energy efficiency programs by $342 million, bringing the total budget to over $1 billion, and introduced two new initiatives aimed at lowering costs for consumers and improving grid reliability.
Energy efficiency remains the cleanest and most cost-effective solution for Canada's rising electricity demand, and the additional funding is further validation of the past success and tremendous potential of energy efficiency in Ontario. The expansion is expected to begin in Spring 2023 with a new residential demand response program that pays people to save energy, targeted support for greenhouse growers in southwest Ontario, plus enhancements to Save On Energy's existing Business Retrofit and Local Initiatives Programs.
CLEAResult works with households and businesses across Ontario every day to reduce their energy costs in support of the IESO's current programs. "We're thrilled to see Minister Smith continue to invest in securing reliable, affordable electricity for Ontarians through comprehensive energy efficiency initiatives," said Ryan Shaw, CLEAResult's Senior Vice President of Client Delivery in Canada. "Long-term grid reliability is the goal, and we're honored to be a part of the solution. Our role is to make sure people see the benefits—from saving money to keeping their businesses competitive—the positive impacts of this decision will be felt by everyone."
The company's recent partnerships, acquisitions and experience in Canada give the team great confidence in their ability to turn the announcement into action. "Spring is coming fast, but we'll be more than ready," Shaw added.
Over the summer, CLEAResult acquired Ecofitt to expand their residential capabilities in Canada. The company also acquired ChooseEV earlier this year, an industry-leading provider of educational tools and resources for businesses and individuals looking to adopt electric vehicles as part of their sustainability efforts.
More recently, CLEAResult announced a partnership with distributed energy resource leader, Virtual Peaker, to provide customer-friendly demand response solutions designed with scale in mind. The company has also been an active partner in implementing many C&I efficiency programs throughout Canada, including support for various demand response initiatives over the past year.
"Our team is looking for every opportunity to invest in, develop and train a skilled workforce to support Ontario's energy efficiency needs," Shaw emphasized. "It's the fastest way to reliably meet demand and get savings into people's hands."
In total, these new initiatives are estimated to save consumers over $650 million in energy costs by 2025 and reduce greenhouse gas emissions by three million tonnes over the lifetime of the improvements.  CLEAResult's commitment to reaching net zero by 2025 is well-aligned with Ontario's sustainability and climate goals. The company also offers carbon consulting services for other organizations looking to accelerate their energy efficiency and decarbonization efforts.
Visit clearesult.ca to see all the ways people, business, municipalities and more can save energy in Canada.
About CLEAResult
CLEAResult is the largest provider of energy efficiency, energy transition and decarbonization solutions in North America. Since 2003, our mission has been to change the way people use energy. Today, our experts lead the transition to a sustainable, equitable, and carbon-neutral future for our communities and our planet. Our hometown teams collaborate with a diverse network of local partners to deliver world-class technology and personalized services that make it easy for commercial and industrial businesses, governments, utilities and residential customers to reduce their energy use and carbon footprint. CLEAResult is headquartered in Austin, Texas, and has over 2,400 employees in more than 60 cities across the U.S. and Canada. CLEAResult is majority owned by TPG through its middle market and growth equity investment platform TPG Growth and its multi-sector global impact investing strategy The Rise Fund.
Explore all our energy solutions at clearesult.ca.
Follow us on: Facebook | LinkedIn | Twitter | Instagram
Media contacts 
Amber Tester 
Director Corporate Communications
Go back